Program to Increase Diversity Draws Raves from 26 Aspiring Lawyers
At a time when minority enrollment in law school is declining, the new Skadden, Arps, Slate, Meagher & Flom Honors Program at The City College of New York (CCNY) is working to reverse that trend. This fall, the first cohort of 26 Skadden, Arps Scholars enrolled in the intensive two-year program.

All juniors, they were selected through a highly competitive process. Students in the program are raving about it and the advantages it will offer them when they apply to law school.
 
"This program is unique nationally because no other undergraduate school offers anything as comprehensive," says Jeremy Wilson, a Political Science major and Bronx resident. "We not only take classes pertaining to law but LSAT (Law School Admission Test) classes as well, in addition to meeting and talking to lawyers."

Historically, African-Americans and other minority groups have been underrepresented in the legal profession. As of May 2007, just 13 percent of the nation's lawyers were minorities, according to the "Minority Law Journal."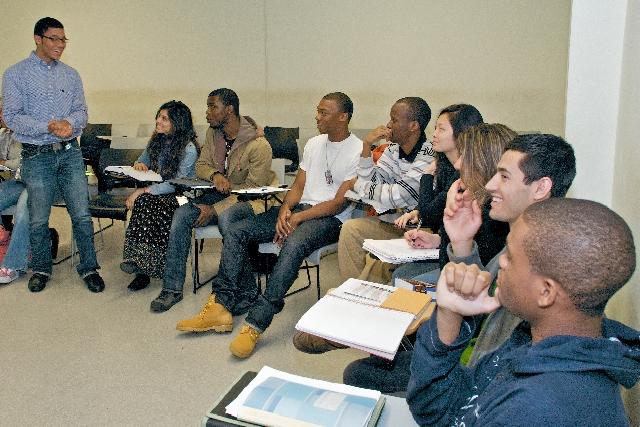 The Skadden, Arps Honors Program is supported by a commitment of $9.6 million over 10 years from the New York-based global law firm. It aims to increase diversity in law schools and the legal profession by providing talented students from diverse backgrounds with the education, groundwork and experience necessary to gain admission to, and succeed in, competitive law schools.

A hallmark of the program is its exceptional combination of an integrated honors curriculum featuring specialized seminars, extraordinary support and mentoring by professionals. Scholars also benefit from internships at Skadden, Arps and other employers in the legal profession.

For Queens resident Sahar Khan, Skadden, Arps' involvement alone makes the Honors Program unique. "It is one of the largest law firms in the world and this is the only such program for undergraduates that has their support."

Joy Pittman, who is in CCNY's combined B.A./M.A. Economics program and plans a legal career focusing on white collar crime, sees Skadden, Arps opening up avenues to Ivy League law schools.

"There are not enough CUNY-to-Harvard or CUNY-to-Yale stories, so this program will help bridge the gap," says the Queens resident.

Dr. Karen Struening, Director of the Skadden, Arps Honors Program, lauds the Scholars, whose average G.P.A. is 3.50, and says they'll be integral to the program's success. "These students are highly motivated, bright, mature and a pleasure to be around. They understand that they've been given a unique gift and are appreciative and focused."

She predicts that most of them will go on to law school and do wonderful things.

Quoting figures from the American Bar Association, Dr. Struening noted that as recently as the 2005-2006 academic year, African-Americans represented just 6.5 percent of all law students and 30.6 percent of minority law students. This was a drop from 7.5 percent and 35.6 percent, respectively, the previous year. Similar drops occurred for Mexican-American and Puerto Rican enrollment. 

These are trends the Skadden, Arps Program hopes to reverse. Joseph H. Flom, Senior Partner at Skadden, Arps and a 1948 CCNY alumnus, explains the law firm's motivation. "Since our founding in 1948, Skadden has recognized that excellence and diversity are intertwined, and we have sought to address the persistent lack of diversity in the legal profession."

Dr. Struening predicts that if the program continues to draw the same caliber of students as its first cohort of scholars, it will fulfill its mission. For more information on the Skadden, Arps Honors Program at CCNY, visit: /prospective/socialsci/skadden.
MEDIA CONTACT