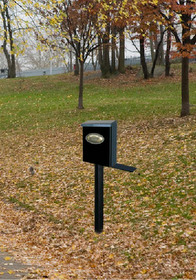 St. Nicholas Park on the slopes of The City College of New York (CCNY) in uptown Manhattan will morph into an open air art space this summer, thanks to a collaboration between CCNY, the West Harlem Art Fund, Inc., and other community partners.
On public view in the 22.74 acre park from June 16 through the end of July will be the exhibit "In Dialogue," an arrangement of contemporary art installations by artists, including students from CCNY's MFA Studio Art Program. It will be unveiled at 2 p.m. in the Meadows, near the 135th Street plaza.
The artists participating in the exhibition include Dominican native Scherezade Garcia, whose work as a fine artist has been displayed in the United States, Europe, Latin America and the Caribbean since 1990 and noted photographer Marcie Revens.
The installations in the park will mix history, community and landscape together for Harlem residents and New Yorkers in general. 
"This project is important to City College because it is another medium to further connect our students with this very important park and CCNY with the historic Harlem community," said Dr. Robert E. Paaswell, Interim President of The City College.
In advance of the exhibition, CCNY's MFA Program created a special studio last fall to help students generate proposals that were displayed, said Dr. Myrah Brown Green, Arts Advisor to the Dean of Humanities and the Arts.
 
She applauded the MFA Program for its input. 
"This is just the beginning," Dr. Green added. "We have an MFA Studio Art Program that is strong, full of substance and continually growing. We look forward to seeing it spread its artistic wings throughout New York City."
A Distinguished Lecturer of Art and master quilter, Dr. Green and Savona Bailey-McClain, Executive Director of the West Harlem Art Fund, were instrumental in conceptualizing "In Dialogue." 
In addition to the West Harlem Art Fund, the College's other partners in the "In Dialogue" project include the New York City Department of Parks and Recreation and its Public Art Program, Manhattan Community Board 9 and the Friends of St. Nicholas Park.
City College has been a leader in the development of St. Nicholas, which stretches from West 128th Street to West 141st Street and connects St. Nicholas Terrace, Edgecombe and St. Nicholas Avenues.
In 1995, CCNY pioneered the "Take Back St. Nicholas Park" initiative with community members to make the park a cleaner and safer place.
For more information on the "In Dialogue" exhibition in St. Nicholas Park, contact The City College of New York Division of Humanities & the Arts at 212.650.8836.