In her three years at City College, Taisiya Zuyeva was a volleyball ace. She helped lead CCNY to the 2008-2009 CUNY Athletic Conference (CUNYAC) title and earned Scholar-Athlete and conference All-Star honors.  
Not long after she graduated from CCNY last May with a degree in education cum laude, Medgar Evers College hired her at the tender age of 21 to lead its women's volleyball program. She became the youngest coach in the program's history and the youngest coach in CUNYAC.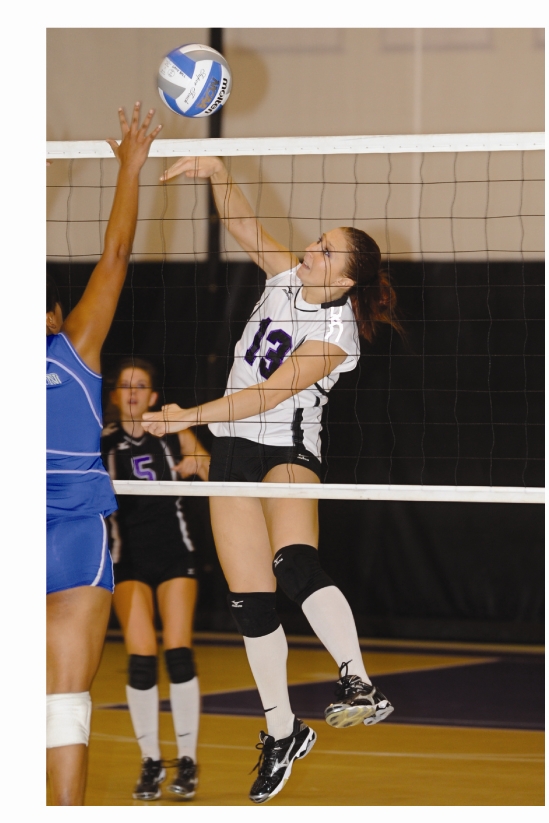 Her coaching debut on September 6, five weeks after her 22nd birthday, saw the Evers "Lady Cougars" defeat Yeshiva University 3-0.
"I've always wanted to coach and I love this job," said Zuyeva, who said she was surprised to get the nod. "My hopes were not high. I had just got out of college and the (four other candidates) had more coaching experience than me."
However, what the talented outside hitter from Bensonhurst, Brooklyn, had along with her distinguished playing career was an intimate knowledge of CUNYAC. Evers, a Division III school, plays in that conference as well as the Hudson Valley Conference. 
"They liked the fact that I was from the City University of New York Athletic Conference and knew how it operates, since I once worked in the CCNY athletic office," noted Zuveya, who came to the United States from Russia in 1996.
Both Roy Anderson, Medgar Evers' Athletic Director, and Krishna Dass, Zuyeva's former coach at CCNY and Baruch and long-time mentor, have high hopes for the rookie coach. 
"She was a very good player and is very enthusiastic, and so far has been able to pass on her enthusiasm to the team. She's doing very well and we're happy," Anderson said.
Dass, who led Zuyeva to the 2005 CUNYAC championship, when both were at Baruch, as well as at CCNY in 2009, recommended her protégé for the Medgar Evers job. She has no doubts about her capability despite her young age. 
"It's very unusual for someone so young to get a head coaching position straight out of college," she said. "Usually they stay on as an assistant at the college they graduated from. 
"But I've no doubt she'll succeed. This year will be tough but she'll improve their skills and move [Medgar Evers] forward." 
At any rate, Dass put sentiment aside when CCNY met Medgar Evers in the CUNY Multi-Match tournament at York College September 12. CCNY won 3-0.
Despite the loss, Zuyeva is earning praise for transforming Medgar Evers into a competitive and well-organized team. "Taisiya is definitely doing a nice job," noted Zak Ivkovic, CUNYAC's Executive Director. "She has a bright future ahead of her in coaching."