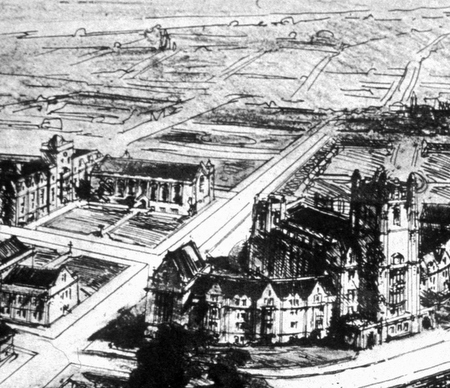 The Lost World of CCNY: Architectural Gems of our Past
"Adspice" – look to the Past. "Respice" – look to the Present. "Prospice" – look to the Future. The motto of the great seal of The City College of New York comes to life in a stroll down the Lincoln corridor in Shepard Hall, where the City College Archives presents a never-before assembled visual history of CCNY, from our origins on 23rd Street to the magnificent new advanced research buildings that opened on our campus in 2015.
The exhibition of material from the City College Archives runs through June 2, 2017.
The images presented here – including 112 architectural renderings, photographs and detailed drawings of elements such as like light fixtures and furniture spanning 170 years – reveal a panoramic vision of what City College was in decades past.  Buildings of incredible architectural design that were either destroyed by necessity (for example the Bowker/Alumni Library, which was never completed and inadequate to house the collection), or were destroyed because the needs of the campus changed throughout the years, are remembered here.

This is a journey through time. From the Free Academy Building (1849-1927) to the Adolph Lewisohn Stadium (1915-1973) and the John H. Finley Student Center (1847-1985) these buildings represent part of the architectural heritage of City College.

The almost pastoral world evoked by the earlier campus renderings and photographs of a virtually empty Convent Avenue no longer exists. A metaphorical travelogue, these images invoke and highlight a sense of the changes in the microcosm of the campus as a reflection of the changes in the macrocosm of the city as a whole.  Captured in this exhibit, the viewer can see how City College has changed over time. These images capture a world that we could not have seen and perhaps never suspected existed, and together give us an impression of a what has been lost and what has been gained as City College evolved into what it is today, one of the great public institutions of higher education in America and the world. 
Academic Architecture: The Post Legacy
Curated by Professor Judy Connorton, Professor Robert Laurich, and Professor Sydney Van Nort

The Lost World of CCNY: Architectural Gems of our Past
Curated by Professor Robert Laurich, Professor Julio Rosario and Professor Sydney Van Nort
About The City College of New York
Since 1847, The City College of New York has provided low-cost, high-quality education for New Yorkers in a wide variety of disciplines. More than 15,000 students pursue undergraduate and graduate degrees in eight professional schools and divisions. View CCNY Media Kit.