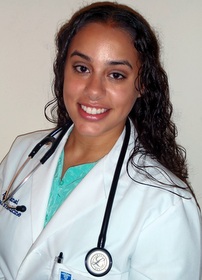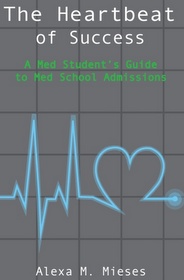 It took just 30 days to write, but author Alexa Mieses, a standout member of The City College of New York's Class of 2011, considers "The Heartbeat of Success: A Med Student's Guide to Med School Admissions" a rarity among how-to-books for medical school.
 
"There are numerous medical school guide books out there, but few written by a medical student," said Ms. Mieses, now a second-year student at the Icahn School of Medicine at Mount Sinai (Hospital), whose self-published book was released October 7. "What I tried to offer is professional advice from a student's perspective."
 
The 166-page text is a step-by-step guide to preparing a successful medical school application, and is based on her own experience getting into Mount Sinai. Topics include requesting letters of recommendation, preparing for the Medical College Admission Test and what to do on medical school interviews. The book is available in paperback and Kindle formats at createspace.com and amazon.com. 
Dr. Irwin Dannis, MD, who co-wrote the book's foreword with Dr. Lynne Holden, MD, called it "the most complete guide to medical college entrance I have ever seen." He added that it would be a great help to minority candidates, who have "received a paucity of guidance."
At City College, where she earned a BS in biology, magna cum laude, Ms. Mieses was a J.K. Watson Fellow and Salk Scholar. 
On the Internet: 
About The City College of New York
Since 1847, The City College of New York has provided low-cost, high-quality education for New Yorkers in a wide variety of disciplines. More than 16,000 students pursue undergraduate and graduate degrees in: the College of Liberal Arts and Sciences; the Bernard and Anne Spitzer School of Architecture; the School of Education; the Grove School of Engineering; the Sophie Davis School of Biomedical Education, and the Colin L. Powell School for Civic and Global Leadership. 
Set on a striking, 35-acre hilltop campus in upper Manhattan, CCNY has produced more Nobel laureates than any other public institution in the United States. The College has been touted as one of America's Top Colleges by Forbes, one of the Best Colleges in the United States as well as one of the Best Value Colleges by the Princeton Review, and ranks among U.S. News' top regional universities.