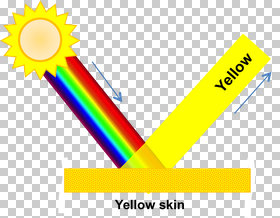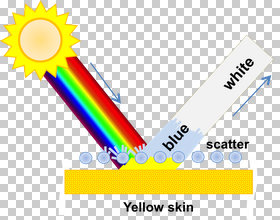 Professor Robert Alfano and colleagues devise approach for applying quantum and optical principles to cosmetic preparations
How someone perceives color is determined by how the item they are looking at scatters and emits light. In August, three City College of New York physicists affiliated with the Institute for Ultrafast Spectroscopy and Lasers (IUSL) were awarded a patent for a method for changing perception of skin tone by applying quantum and optical principles to cosmetic preparations.
IUSL Director Robert R. Alfano led the team. Research Associate Xiaohui Ni played a key role in calculating the optical effects on nanometer-size particles.
"If you understand the physical properties of light you can use those properties to change color perception. We all know red, green and blue give white," said Dr. Alfano, CUNY distinguished professor of science and engineering. For example, yellowish skin could appear white if covered with a preparation enabling it to scatter blue light as well as yellow light.
According to the patent abstract, the main application of the method will be to change the appearance of facial color from red, blue or yellow to white. Often, these appearances result from medical conditions. For example, cyanosis, deprivation of oxygen to tissue near the skin, can cause skin to appear blue. Also, many people develop rosacea, which causes skin to redden, as they age.
Scattering does the trick.
"By selecting the right size and materials of particles compounded in cosmetic preparations and applying the preparations to the skin, the scattering and/or emission from micro- and nan-particles can provide a complimentary color or in proximity to that complementary color of the skin color," the abstract states. "The mixture of the color provided by the particles and the reflect color from the skin will whiten the skin or make inconspicuous the hyperchromic (more light absorbing) portion of the skin."
The method can be applied to other products in which particles are applied to a surface or blended into a material, including paint and colored glass.
Patent No.: US 8,518,445 B2
Date of Patent: August 27, 2013
Title: Changing Skin-Color Perception Using Quantum and Optical Principles in Cosmetic Preparations
Inventors: Robert R. Alfano, Bronx, N.Y.; Xiaohui Ni, New York, N.Y.; Manuel Zevallos, Woodhaven, N.Y.
Assignee: Research Foundation of the City University of New York
Filed: January 22, 2007
About The City College of New York
Since 1847, The City College of New York has provided low-cost, high-quality education for New Yorkers in a wide variety of disciplines. More than 16,000 students pursue undergraduate and graduate degrees in: the College of Liberal Arts and Sciences; the Bernard and Anne Spitzer School of Architecture; the School of Education; the Grove School of Engineering; the Sophie Davis School of Biomedical Education, and the Colin L. Powell School for Civic and Global Leadership.  
Set on a striking, 35-acre hilltop campus in upper Manhattan, CCNY has produced more Nobel laureates than any other public institution in the United States. The College has been touted as one of America's Top Colleges by Forbes, one of the Best Colleges in the United States as well as one of the Best Value Colleges by the Princeton Review, and ranks among U.S. News' top regional universities.