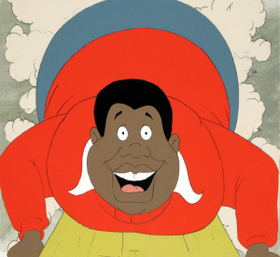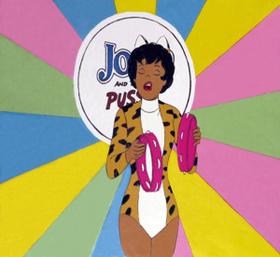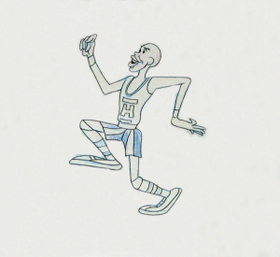 Exhibit featuring artwork from 'Harlem Globetrotters,' 'The Jackson 5ive" and 'Fat Albert and the Cosby Kids' opens February 5 at the Schomburg Center
Over the past 15 years, Pamela Thomas, a member of The City College of New York Class of 1996, and business partner Loreen Williamson have assembled one of the most extensive collections of 1970s black animation art in the United States. They have made it accessible to the public through their virtualMuseum of UnCut Funk, and, now, a traveling exhibit, "Funky Turns 40: Black Character Revolution," which opens February 5 at the Schomburg Center for Research in Black Culture in Harlem.
The collection consists of more than 300 original production cels, production drawings and storyboards, mainly from animated series that aired during the 1970s. Among the programs represented are "Harlem Globetrotters" (1970), "The Jackson 5ive" (1971) and "Fat Albert and the Cosby Kids" (1972 – 1985). Ms. Thomas and Ms. Williamson culled approximately 60 pieces from the collection to include in the "Funk Turns 40" show.
"We focused on the 1970s because this was the first time there was a group of cartoons with positive images of blacks, and black children as well as other children could see these images on television," said Ms. Thomas, a black studies major at CCNY who now teaches pre-school in Plainfield, N.J. "As a baby boomer, this was the first time I got to see images I could relate to."
Ms. Thomas and Ms. Williamson began collecting animation art when they were partners in an art gallery in Summit, N.J. Seeing strong demand for art from Disney and Warner Brothers cartoons, they identified an untapped niche in animation that featured black characters. They developed a network of galleries, dealers and private collectors to alert them when items of interest came on the market.
"These series represent an incredible story that needs to be told. We want to start a conversation on why these cartoons are national treasures on tour," Ms. Thomas added. She noted that many of the programs dealt with real-life issues such as family values, education, friendship, civic duty, personal responsibility and sportsmanship, "but seen through the eyes of children."
The exhibit at the Schomburg runs through June 14. Afterwards, it goes on display at the DuSable Museum of African American History in Chicago and, then, the Northwest African American Museum in Seattle. Ms. Thomas is currently negotiating exhibitions for 2015 and 2016 in other cities.
The Museum of UnCut Funk describes itself as the "planet's first virtual museum dedicated to the celebration and preservation of the FUNK!" and the "foremost authority and archive of 1970's Black culture and all things FUNKY!" Its collection of more than 5,000 items includes, in addition to black animation art, black advertising tins, black Broadway window cards, black coins, black comic books, black movie poster art, black movie press kits and black stamps.
About The City College of New York
Since 1847, The City College of New York has provided low-cost, high-quality education for New Yorkers in a wide variety of disciplines. More than 16,000 students pursue undergraduate and graduate degrees in: the College of Liberal Arts and Sciences; the Bernard and Anne Spitzer School of Architecture; the School of Education; the Grove School of Engineering; the Sophie Davis School of Biomedical Education, and the Colin Powell School for Civic and Global Leadership. U.S. News, Princeton Review and Forbes all rank City College among the best colleges and universities in the United States.