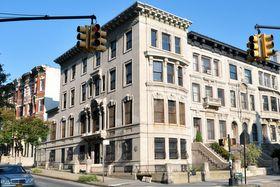 Alumni House, a townhouse owned by City College in the Hamilton Heights Historic District, will become part of the recently established Colin Powell School for Civic and Global Leadership.
Alumni House to house offices and conference spaces for Colin Powell School for Civic and Global Leadership
The City College of New York is pleased to announce that Alumni House, a limestone townhouse it owns in Harlem's Hamilton Heights Historic District, will become part of the recently established Colin Powell School for Civic and Global Leadership. Renovations to the building, located at the corner of Convent Avenue and W. 141st Street, are scheduled to begin early in 2014.
"Alumni House has been vacant since it was damaged by fire in the late 1970s, but has the potential to be a gorgeous part of an historic Harlem block," said Dr. Vincent Boudreau, director of the Colin L. Powell Center for Service and Leadership. "We embrace the opportunity to rehabilitate this beautiful structure and put it back into use.

The Colin Powell School will use the restored building for offices and activities involving public events programming and civic engagement. The space will provide a venue for workshops, leadership training and professional development for students, and interactions between campus and community leaders.

City College has been working with a design team, in close coordination with state representatives and New York City landmark preservation members, to make sure that the building is renovated in ways that will complement, and be consistent with, the existing architecture. When renovations are completed, the building will become a vibrant part of an exciting neighborhood. The college looks forward to having many opportunities to discuss the building and its planned programming with the local community.
The City University of New York Board of Trustees established the Colin Powell School on April 29, 2013. The school is home to City College's Departments of Anthropology, Economics, Political Science, Psychology, and Sociology. It also houses the Graduate Center, CUNY, PhD program in clinical psychology and the CUNY Dominican Studies Institute.
The Colin Powell School offers a wide variety of traditional and interdisciplinary undergraduate and graduate degrees, and its students earn nearly one-third of all degrees awarded at City College. The hallmark values of service and leadership permeate every aspect of the school's work and animate City College's unflagging and historic commitment to access and excellence.
Gen. Colin L. Powell (USA) ret., a member of the City College Class of 1958 and the first African American to serve as secretary of state and chairman of the Joint Chiefs of Staff, chairs the school's Board of Visitors. The board consists of 27 prominent Americans. In addition, General Powell is a member of the CCNY 21st Century Foundation Board.

On the Internet
City College of New York Media Contact
Ellis Simon, 212-650-6460,  esimon@ccny.cuny.edu
Colin Powell School Media Contact
Maura Christopher, 212-650-7386,  mchristopher@ccny.cuny.edu

About The City College of New York
Since 1847, The City College of New York has provided low-cost, high-quality education for New Yorkers in a wide variety of disciplines. More than 16,000 students pursue undergraduate and graduate degrees in: the College of Liberal Arts and Sciences; the Bernard and Anne Spitzer School of Architecture; the School of Education; the Grove School of Engineering; the Sophie Davis School of Biomedical Education, and the Colin Powell School for Civic and Global Leadership. U.S. News, Princeton Review and Forbes all rank City College among the best colleges and universities in the United States.