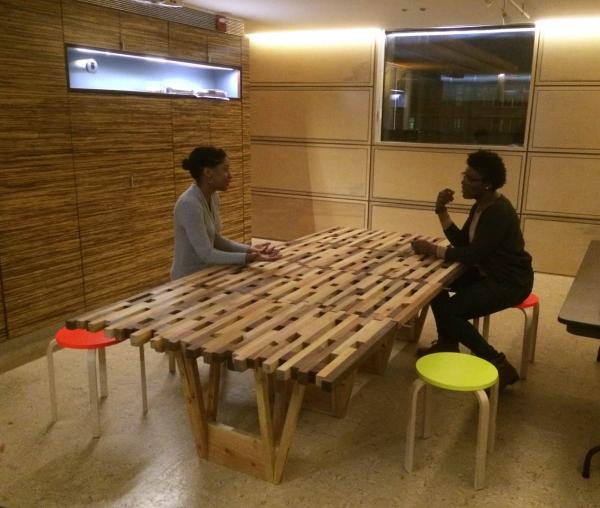 Spitzer Collapsable Table
How many architecture students does it take to build a table?
Six architecture students—Justyna Drodzd, Christina Bien-Aimé, Shereese Trumpet, Wei Zhang, Julian Usman and Jamie Huang—were charged with designing and building a collapsible table for the Bernard and Anne Spitzer School of Architecture's Solar Roof Pod.
Serving as a classroom and event table, the project had to be designed and built under onerous restrictions:  it had to be collapsible with no single piece longer than 27 inches so that it could be taken apart and stored, and there was no money budgeted for it.
Fortunately, Huang interned during the summer for a cabinetry shop, where he noticed huge amounts of scrap wood. The students managed to procure enough of it to fashion 268 separate pieces needed for the table and save an estimated $2,000 that it would have cost to purchase the necessary supplies.
The process of collecting, designing and building took 20 weeks and numerous hours before the finished product was unveiled on last month.
"I hope that the students experienced tangibly after so much time to design-build a table, how much hard work it takes to design-build a building," said Associate Professor Christian Volkmann of his fourth-year independent study students.
But wait – there's more. Volkmann wants to add two more leaves to that table.
About The City College of New York
Since 1847, The City College of New York has provided low-cost, high-quality education for New Yorkers in a wide variety of disciplines. More than 15,000 students pursue undergraduate and graduate degrees in the College of Liberal Arts and Science; Bernard and Anne Spitzer School of Architecture; School of Education; Grove School of Engineering; Sophie Davis Biomedical Education/CUNY School of Medicine; and the Colin Powell School for Civic and Global Leadership. U.S. News, Princeton Review and Forbes all rank City College among the best colleges and universities in the United States.