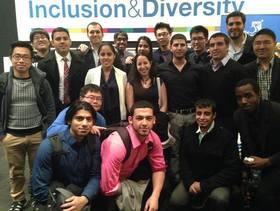 CCNY ASAME student club members that participated in a talk with ASME international president Madiha El Mehelmy in Brooklyn on inclusion and diversity.
A mentoring program launched by The City College of New York 's student chapter of the American Society of Mechanical Engineers (ASME) is off to a flying start after winning a $1,500 Diversity Action Grant from the Society's metropolitan section.

"The grant will be used in the development of our mentoring program, which was created to help with retention in the mechanical engineering department," said club president Nathali Bertran. "Because CCNY is a school with a large population of minority students, some of whom lack knowledge of how the professional engineering world works, we wanted to create a program to prepare them for life through engineering school and beyond."

The program kicked off with a panel discussion February 27 featuring Grove School of Engineering students discussing their internship experiences with major corporations such as General Electric, Alcoa and Toyota. 

Club members also visited the Manhattan Center for Science and Mathematics, a specialized high school, to talk about the STEM [science, technology, engineering and math) disciplines and career opportunities in mechanical engineering.

In addition, they participated in a talk with ASME President Madiha El Mehelmy Kotb, held March 20 at National Grid's offices in Brooklyn. 

The City College student chapter has 80 members. Dr. Latif M. Jiji, Herbert Kayser Professor of Mechanical Engineering, is the club advisor. 

About The City College of New York 
Since 1847, The City College of New York has provided low-cost, high-quality education for New Yorkers in a wide variety of disciplines. More than 16,000 students pursue undergraduate and graduate degrees in: the College of Liberal Arts and Sciences; the Bernard and Anne Spitzer School of Architecture; the School of Education; the Grove School of Engineering; the Sophie Davis School of Biomedical Education, and the Colin L. Powell School for Civic and Global Leadership. U.S. News, Princeton Review and Forbes all rank City College among the best colleges and universities in the United States. 
MEDIA CONTACT