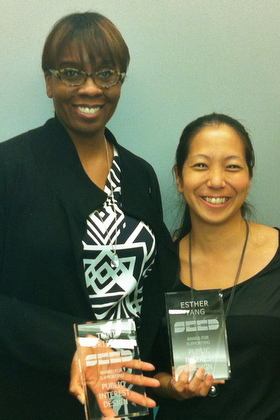 Nearly 100 architects, landscape architects and community development professionals from several states attended a two-day 
Public Interest Design Institute
 held March 24 – 25 at City College's 
Spitzer School of Architecture
. The 
J. Max Bond Center
 on Design for the Just City, Design Corps and the 
SEED Network
 (Social, Economic, Environmental Design) organized the event, one of the largest of its kind to date.
"This was an opportunity for practitioners and students to learn how to proactively engage communities and hear about innovative design and funding practices that can support their work in empowering ways," said Bond Center Deputy Director Esther Yang, one of the event organizers. Six public interest design experts, including Ms. Yang, Bond Center Director Toni Griffin and Design Corps founder and Executive Director Bryan Bell served as workshop leaders.
Public Interest Design (PID) is a growing sector in architecture and other design fields. Working through a collaborative, participation-based design process, PID projects have positively impacted critical social issues in communities around the world.
Spitzer School Dean George Ranalli provided partial scholarships to enable 22 CCNY undergraduate and graduate architecture students to attend. In addition, six local community development professional attended on scholarship from Design Corps:
•  Anasa Scott, strategic planning and social enterprise consultant
•  Elizabeth Pereya, West Harlem Development Group
•  Karen Kubey, Institute for Public Architecture
•  Charles Calloway, We Act
•  Vogue Jackson, South Bronx Economic Development Corporation
•  Tonja Adair, Splice Design
About The City College of New York
Since 1847, The City College of New York has provided low-cost, high-quality education for New Yorkers in a wide variety of disciplines. More than 16,000 students pursue undergraduate and graduate degrees in: the College of Liberal Arts and Sciences; the Bernard and Anne Spitzer School of Architecture; the School of Education; the Grove School of Engineering; the Sophie Davis School of Biomedical Education, and the Colin Powell School for Civic and Global Leadership. U.S. News, Princeton Review and Forbes all rank City College among the best colleges and universities in the United States.
About the J. Max Bond Center on Design for the Just City
The J. Max Bond Center at the Bernard and Anne Spitzer School of Architecture at the City College of New York believes that design can have a positive impact on urban reform in our nation's cities. Founded in 2011, the Bond Center is dedicated to the advancement of design practice, education, research and advocacy in ways that build and sustain resilient and just communities, cities and regions.