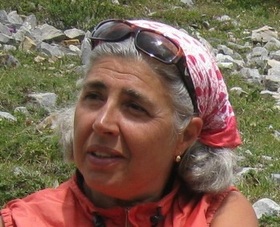 Dr. Carla Cappetti, a professor of English at The City College of New York whose specialty is American literature and literary theory, has been awarded a 2013-2014 Fulbright Scholar Award for teaching and research in Italy.  
She will spend Spring 2014 at Ca' Foscari, University of Venice, an institution with approximately 18,500 students and concentrations in the humanities, foreign languages, economics and environmental studies. 
Professor Cappetti will teach MA and PhD candidates specializing in Anglophone 
literatures. Her seminar will focus on her current interest, the role of nature and wild animals in American literature. She also plans to use the time to continue work on her latest book project, "The Beast in the Garden of American Literature."  
She is also the author of "Writing Chicago: Modernism, Ethnography, and the Novel" (Columbia University Press, 1993) and has published articles on Richard Wright, Zora Neale Hurston, the Federal Writers' Project and Natalia Ginzburg.
Professor Cappetti holds a Laurea (Italian post-secondary school academic degree) in Anglophone Literatures from Universita' degli Studi di Torino, which she received in 1980. She earned her MA in English from the University of Wisconsin in 1981 and her PhD in English and Comparative Literature from Columbia University in 1989.
The Fulbright Program is the flagship international educational exchange program sponsored by the U.S. government and is designed to increase mutual understanding between the people of the United States and the people of other countries. The Fulbright Scholar Program sends 800 U.S. faculty and professionals abroad each year. Grantees lecture and conduct research in a wide variety of academic and professional fields.