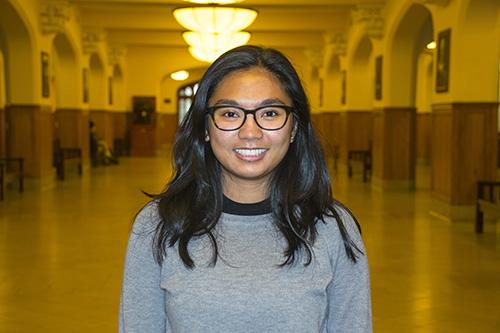 Marina Santos of The City College of New York's Bernard and Anne Spitzer School of Architecture is the winner of a 2016 American Institute of Architects New York State (AIANYS) Student Award.  The honor is for her project "Reach," a design proposal for an art gallery at Brooklyn College.
Santos' project was nominated by the Spitzer School for the AIANYS award, whose 2016 theme is focused on the role of design in transforming communities. She created the design as part of her first-year M Arch studio project.
In addition, she had to present her design to Brooklyn College and won first place for her gallery proposal.
"The gallery invites the university as a whole to experience student work or curated artists—whether by walking past, sitting in front of or entering the gallery itself," said Santos, a Rockland County resident. "The glass facade of the gallery enables viewers to see art at any time of day without having to physically enter the gallery."
About The City College of New York
Since 1847, The City College of New York has provided low-cost, high-quality education for New Yorkers in a wide variety of disciplines. More than 15,000 students pursue undergraduate and graduate degrees in eight professional schools. View CCNY Media Kit.