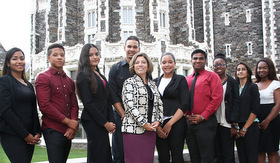 Mehedi Mondal's early years were challenging. Born in Brooklyn four weeks after his Bangladeshi immigrant parents arrived in New York, his father drove a cab while his mother worked as a cashier.
Thanks to a City College of New York President's Community Scholarship, Mondal, now a Bronx resident, is the first in his family to attend college. The 18-year-old is one of nine high-achieving students from upper Manhattan high schools awarded scholarships to study free at City College.
 
"It's given me a fighting chance to just study and not worry about tuition. Every penny counts when your parents are always working," said Mondal, a graduate of Manhattan Center for Science and Mathematics in East Harlem.
A biology major, his career goal is to become a cardiac surgeon.
The other 2015 CCNY President's Community Scholars are:
Anyelina Almonte, Gregorio Luperon HS;
Afua Broni, A. Philip Randolph Campus High School;
Steven Cabrera, HS for Media and Communications;
Melisa Dionicio, Manhattan Center for Science and Mathematics;
Ruth Fernandez, City College Academy of the Arts;
Nemesys Perez, Gregorio Luperon HS;
Dianne Reid, Frederick Douglass Academy;
Brexnak Rojas, HS for Health Careers and Sciences;
The freshmen, all from immigrant families, are the sixth cohort of Community Scholars since City College President Lisa S. Coico initiated the program in 2010 to strengthen the links between the institution and the neighboring community. To date, 53 students have received scholarships.
About The City College of New York
Since 1847, The City College of New York has provided low-cost, high-quality education for New Yorkers in a wide variety of disciplines. More than 16,000 students pursue undergraduate and graduate degrees in: the College of Liberal Arts and Sciences; the Bernard and Anne Spitzer School of Architecture; the School of Education; the Grove School of Engineering; the Sophie Davis School of Biomedical Education, and the Colin Powell School for Civic and Global Leadership. U.S. News, Princeton Review and Forbes all rank City College among the best colleges and universities in the United States.