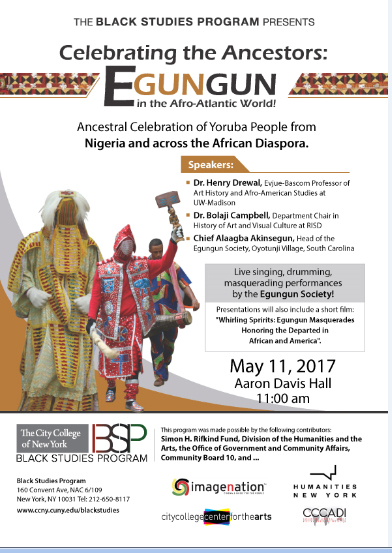 The City College of New York's Black Studies Program presents Celebrating the Ancestors: EGUNGUN in the Afro-Atlantic World on May 11, 11 a.m.-5 p.m., at Aaron Davis Hall. The festival celebrates Yoruba people from Nigeria and across the African Diaspora.
According to Dr. Cheryl Sterling, director of the Black Studies Program in the Division of Humanities and the Arts, Egungun masking occurs as performances that celebrate the ancestral spirits. Originating with the Yoruba in West Africa, the tradition came with enslaved peoples across the African Diaspora and is celebrated across the English-speaking Caribbean, Cuba, Brazil and the United States.
Speakers include:
Chief Alaagba Akinsegun, head of the Egungun Society, Oyotunji Village, South Carolina;
Dr. Bolaji Campbell, department chair in History of Art and Visual Culture at RISD;
And Dr. Henry Drewal, Evjue-Bascom professor of Art History and Afro-American Studies at UW-Madison.
Presentations will include a short film "Whirling Spirits: Egungun Masquerades Honoring the Departed in Africa and America," and singing, drumming and masquerading performances by the Egungun Society of Oyotunji. To register, click here.
The series is made possible by the Simon H. Rifkind Fund, Division of Humanities and the Arts, the Office of Government and Community Affairs, Community Board 10, Harlem Community Development Corporation, City College Center for the Arts, Humanities New York, CCCADI and Image Nation.
About The City College of New York

Since 1847, The City College of New York has provided low-cost, high-quality education for New Yorkers in a wide variety of disciplines. Today more than 16,000 students pursue undergraduate and graduate degrees in eight professional schools and divisions, driven by significant funded research, creativity and scholarship.  Now celebrating its 170th anniversary, CCNY is as diverse, dynamic and visionary as New York City itself.  View CCNY Media Kit.