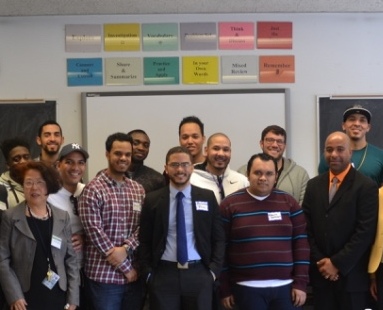 A civic initiative to increase the proportion of minorities among New York City's teaching ranks is taking shape – and the City College of New York's School of Education is in the forefront of it.
NYC Men Teach takes square aim at the public schools' lack of diversity. Male students of color comprise 43 percent of the student demographic but only 8.3 percent of the teachers', according to the enterprise's website.
CCNY's program is headed by Walter Greigg. He was recruited by SOE Dean Mary Driscoll in January to serve as the academic project director, charged with fulfilling City College's share of CUNY's mandate to provide 600 of 1,000 new teachers by 2018. CCNY is expected to supply 67 – almost one in nine -- of those teachers.
Greigg's efforts have already yielded results.
"Our target for the spring 2016 cohort was 10 program students," he said. "We onboarded 19."
Participants can pursue one of two tracks. The program track requires currently enrolled CUNY students to obtain 45 undergraduate credits, or to be enrolled in a graduate teacher education program, and maintain a minimum 3.0 GPA. They also receive a number of benefits, including advisement. Those in the pipeline track receive more advisement assistance and must maintain a cumulative 2.75 undergraduate GPA.
All students must commit to teach in the New York City public school system.
Click here to submit an application for the fall cohort.
About The City College of New York
Since 1847, The City College of New York has provided low-cost, high-quality education for New Yorkers in a wide variety of disciplines. More than 15,000 students pursue undergraduate and graduate degrees in the College of Liberal Arts and Science; Bernard and Anne Spitzer School of Architecture; School of Education; Grove School of Engineering; Sophie Davis Biomedical Education/CUNY School of Medicine; and the Colin Powell School for Civic and Global Leadership. U.S. News, Princeton Review and Forbes all rank City College among the best colleges and universities in the United States.