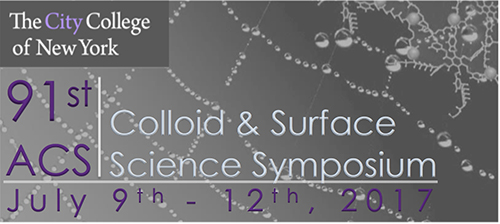 The 91st ACS Colloid and Surface Science Symposium will take place on July 9-12 at The City College of New York. The conference is co-sponsored by the Grove School of Engineering and the Division of Science as well as 22 exhibitors and sponsors.
The annual meeting of the American Chemical Society Division of Colloid and Surface Chemistry will bring together students, faculty, developers and entrepreneurs seeking the latest developments and applications in colloids and surface science. The conference features 13 topical sessions from Colloidal Forces to Interactions to Rheology with over 500 talks and poster contributions presented in 86 sessions.
Plenary lecturers include alumna Professor Kathleen Stebe of the University of Pennsylvania and Professor Markus Antoniotti of the Max Planck Institute - Colloids and Interfaces Potsdam, Germany.
In addition, there will be a Unilever Award Lecture, the Victor K. LaMer Award Lecture and an instrument exhibition. The social program includes a Sunday evening welcome reception, a Monday evening poster session with refreshments, and a Tuesday evening Symposium Banquet.
For more information, please click here.
About The City College of New York
Since 1847, The City College of New York has provided low-cost, high-quality education for New Yorkers in a wide variety of disciplines. Today more than 16,000 students pursue undergraduate and graduate degrees in eight professional schools and divisions, driven by significant funded research, creativity and scholarship.  Now celebrating its 170th anniversary, CCNY is as diverse, dynamic and visionary as New York City itself.  View CCNY Media Kit.