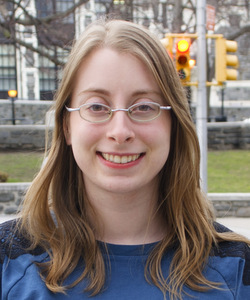 For her research on star-like objects known as brown dwarfs, Ellianna Schwab earns the Chambliss Student Poster Award from the American Astronomy Society.
"By calculating the space motions and positions of a sample of brown dwarfs, my collaborators and I successfully placed three brown dwarfs into moving groups, thus confirming that they were between the ages of 30 million and 257 million years old," explains Schwab, a B.S. candidate in physics and mathematics at Macaulay Honors College at the City College of New York.
Schwab conducts her research with Professors Emily Rice of the College of Staten Island and Kelle Cruz of Hunter College, both of whom are also affiliated with American Museum of Natural History.
"Ellianna is one of our best undergraduates, and this is just one of the prizes that she has won, or is going to win," says Alexios P. Polychronakos, professor and chair of physics at CCNY. "She was also awarded the first Kenneth Singer Memorial Award, recently instituted by a donor, Ms. Jil Picariello, and we nominated her for a couple more."
Schwab hopes to continue on to a doctoral program in theoretical astrophysics. She would like to study the theoretical relativistic magnetic properties of highly-active black holes and the intergalactic magnetic fields caused by these super-massive objects.
About The City College of New York
Since 1847, The City College of New York has provided low-cost, high-quality education for New Yorkers in a wide variety of disciplines. More than 15,000 students pursue undergraduate and graduate degrees in the College of Liberal Arts and Science; Bernard and Anne Spitzer School of Architecture; School of Education; Grove School of Engineering; Sophie Davis Biomedical Education/CUNY School of Medicine; and the Colin Powell School for Civic and Global Leadership. U.S. News, Princeton Review and Forbes all rank City College among the best colleges and universities in the United States.