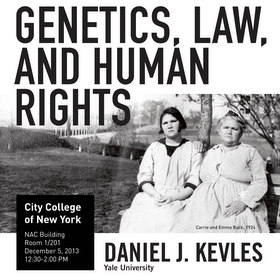 The City College of New York launches "Science and Society," a yearlong lecture series, Thursday, December 5. Yale University historian Daniel Kevles will be the first speaker. His talk, "Genetics, Law and Human Rights," will be presented from 12:30 to 2 p.m. in Room 1/201, North Academic Center. 
Each speaker in the series is a prominent scholar in the humanities or social sciences whose work engages with the history, politics and societal significance of the STEM disciplines (science, technology, engineering and math).
Keith Wailoo, a noted historian of medicine and vice dean of the Woodrow Wilson School for Public and International Affairs at Princeton University, will deliver the second lecture during the spring. It will be based on his book, "How Cancer Crossed the Color Line" (Oxford, 2011).
The series aims to foster a conversation about the relation between the humanities and sciences among faculty from across the campus, according to organizer Dr. Andreas Killen, chair of history. The lectures are open to all members of the college community.
City College's Division of Humanities & the Arts and the Sophie Davis School of Biomedical Education support the "Science and Society" series.
About The City College of New York
Since 1847, The City College of New York has provided low-cost, high-quality education for New Yorkers in a wide variety of disciplines. More than 16,000 students pursue undergraduate and graduate degrees in: the College of Liberal Arts and Sciences; the Bernard and Anne Spitzer School of Architecture; the School of Education; the Grove School of Engineering; the Sophie Davis School of Biomedical Education, and the Colin L. Powell School for Civic and Global Leadership. U.S. News, Princeton Review and Forbes all rank City College among the best colleges and universities in the United States.