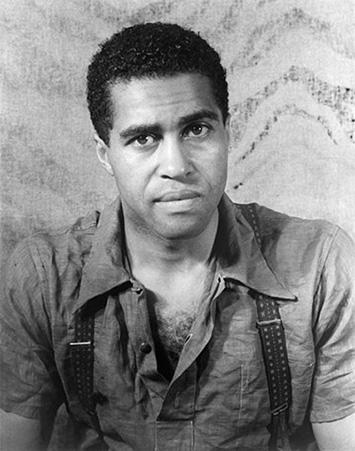 Robert Earl Jones is one of the interviewees in the Hatch-Billops Oral Histories of Black Culture. Photo Credit: Carl Van Vechten, 1938.
The City College of New York Libraries will digitize its archival collection of 221 oral-history recordings which capture interviews and panel discussions with notable African American artists from a variety of disciplines including theater, dance, visual arts, music as well as writers, playwrights and historians. The preservation of the recordings is due to a boost in funding from the GRAMMY Museum Grant Program.
CCNY Libraries is one of this year's 15 GRAMMY Museum grant recipients. Funded by the Recording Academy, the GRAMMY Museum Grant Program provides funding annually to organizations and individuals to support efforts that advance the archiving and preservation of the recorded sound heritage of the Americas for future generations, in addition to research projects related to the impact of music on the human condition.
The tapes are part of the Hatch-Billops Oral History Collection of Black Culture, donated to the Library by former CCNY Professors James V. Hatch and Camille Billops. Starting in the 1960s, Hatch and Billops began documenting the work and opinions of African American artists in order to create educational materials related to the black experience.
The Library was awarded $20,000 to help defray costs associated with the digitization, preservation and dissemination of its entire collection of Hatch-Billops oral history recordings. The tapes will be archived and preserved at the CCNY Archives & Special Collections, and access copies will be made remotely accessible at CCNY and other CUNY institutions subscribing to the ARTstor database.
To view the full list of interviewees, visit the Hatch-Billops Collection Guide.
About The City College of New York
Since 1847, The City College of New York has provided a high quality and affordable education to generations of New Yorkers in a wide variety of disciplines. CCNY embraces its role at the forefront of social change. It is ranked #1 by the Harvard-based Opportunity Insights out of 369 selective public colleges in the United States on the overall mobility index. This measure reflects both access and outcomes, representing the likelihood that a student at CCNY can move up two or more income quintiles. In addition, the Center for World University Rankings places CCNY in the top 1.2% of universities worldwide in terms of academic excellence. More than 16,000 students pursue undergraduate and graduate degrees in eight professional schools and divisions, driven by significant funded research, creativity and scholarship. CCNY is as diverse, dynamic and visionary as New York City itself.  View CCNY Media Kit.