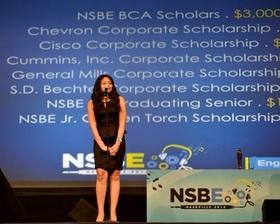 Candice Chang, programs chair of the CCNY chapter, received a $3,000 cash scholarship for academic performance, high GPA and community service, at NSBE's national convention in Nashville. Three other City College students won scholarships.
Grove School engineers win Hackathon, chapter receives awards and 16 full-time employment offers are made to chapter members
A prize-winning app developed in 24 hours by three City College of New York engineering students took first place in a "Hackathon" competition held at the National Society of Black Engineers' (NSBE) 40th annual national convention, March 26 - 30 in Nashville, Tenn. The award was one of the 11 accolades garnered by the 52 City College students participating in the event.

In addition, City College students attending the event, which drew more than 10,000 participants from the United States, Canada and West Africa, received 16 job offers and six internships from such companies as Toyota, Honda, 3M, General Electric, General Motors, Georgia Pacific and Johnson & Johnson.

Dubbed "TRUVoice" (Track Record Upload), the app was created by senior computer engineering major Luis Disla, junior environmental engineering major Tyrone Kirk Shillingford and senior computer science major Dana Smith. It allows potential assault victims to safely and securely record interactions with potential abusers, and upload it to a secure remote server for future use. 

Shawn Charles, City College student chapter president, who led the Grove School of Engineering delegation to Nashville, said the three designers and their competitors were given several categories to choose from and 24 hours to create an app or website relating to the theme of their choice. The CCNY NSBE team chose the police policy "Stop and Frisk" as their category.

Other accolades given at the convention to CCNY NSBE and its members include: 
Best NSBE Chapter award in Region 1 (northeastern United States, eastern Canada and West Africa) for the winter session (December – March 2014).
 
Best NSBE Chapter award in Region 1 for TORCH (Technical OutReach and Community Help).
 
NSBE cash scholarships for academic performance, high GPA and community service to chapter president Shawn Charles ($1,500), programs chair Candice Chang ($3,000), external vice president Andre Smithson ($3,000) and member Infain Cruz ($500).
 
Election of former student president Neville Green as NSBE national secretary, and chapter parliamentarian Joshua James as NSBE national business diversity chair.
In addition, the City College chapter was recognized as one of the top NSBE chapters nationally for 2013 – 2014.

Mr. Charles noted that a remarkable number of chapter members were offered full time employment and internship opportunities at the convention. 

"Of the 52 CCNY delegates that attended the convention, 18 were able to get interviews for co-ops, internships and job offers. There were a total of 40 interviews, 16 job offers, six internships and two co-ops," he noted. 

About The City College of New York 
Since 1847, The City College of New York has provided low-cost, high-quality education for New Yorkers in a wide variety of disciplines. More than 16,000 students pursue undergraduate and graduate degrees in: the College of Liberal Arts and Sciences; the Bernard and Anne Spitzer School of Architecture; the School of Education; the Grove School of Engineering; the Sophie Davis School of Biomedical Education, and the Colin Powell School for Civic and Global Leadership. U.S. News, Princeton Review and Forbes all rank City College among the best colleges and universities in the United States.

About the Grove School of Engineering
The Grove School of Engineering at The City College of New York is the only public engineering school within New York City. It offers Bachelors, Masters and Ph.D. degrees in seven fields: biomedical, chemical, civil, computer, electrical, and mechanical engineering and computer science. The School is recognized nationally for the excellence of its instructional and research programs and ranks among the most diverse engineering schools in the country.

About The CCNY National Society of Black Engineers Chapter
The CCNY NSBE Chapter is a non-profit organization that works to improve academic excellence, professional development and to positively impact the community. Formed in 1983, the chapter serves both the City College and Harlem communities. CCNY NSBE is not limited to Black engineers only. It is open to anyone willing to volunteer and make a difference in the community. For more information call (212) 650-8394 or email nsbe.ccny.cuny.edu.
MEDIA CONTACT