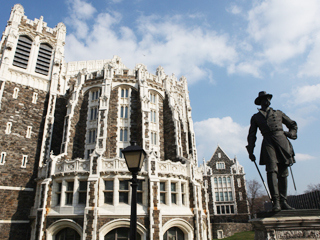 Since its founding in 1847 as the Free Academy, The City College of New York has provided a world-class higher education to an increasingly diverse student body--serving as one of the single most important avenues to upward mobility in the nation. Access to excellence remains the vision of the College today. City College is the founding institution of The City University of New York and the first public urban institution of higher education in the United States.
Vice Chairman of the CUNY Board of Trustees Barry Schwartz will chair this search committee which includes trustees, faculty, students, an alumnus and a CUNY President.
The Search Committee is comprised of the following members:
Barry Schwartz, Vice Chairperson of the CUNY Board of Trustees and Committee Chair
Una T. Clarke, Trustee
Judah Gribetz, Trustee
Mayra Linares-Garcia, Trustee
Ken Sunshine, Trustee
Chase Robinson, President, Graduate Center/CUNY
David Jeruzalmi, Professor and Chair of the Faculty Senate, City College
Ilona Kretzschmar, Professor, Chemical Engineering, City College
Adrienne Petty, Associate Professor, History, City College
Hazel-Ann Mayers, Esq., alumni representative
Safat Chowdhury, undergraduate student representative
Muaad Alody, graduate student representative
The committee will be assisted by the search firm Isaacson Miller.
City College offers outstanding teaching, learning and research on a beautiful campus in the heart of the world's most dynamic city.  The college's excellent programs in architecture, engineering, education and the liberal arts and sciences prepare students for the future, and produce leaders in every field.  City counts 10 Nobel Laureates, a Secretary of State and a Justice of the Supreme Court among its many distinguished alumni.
We look forward to recruiting an exceptional leader for an extraordinary college.
James B. Milliken                                    William C. Thompson, Jr.
Chancellor                                                Chairperson, Board of Trustees