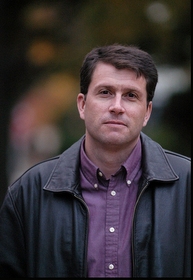 C-SPAN3 will carry a lecture by City College of New York Associate Professor of History Gregory Downs 8 p.m. Saturday, December 28, as part of its American History TV weekend programming. In New York City, C-SPAN3 is carried on Time Warner Cable channels 149, 1902 and 777 (high definition). The lecture will also be streamed live and added to C-SPAN'sarchives December 30 for future online viewing.
 
A C-SPAN video crew taped one of Professor Downs' classes in October for its "Lectures in History" series. His lecture examines the Reconstruction Era that followed the American Civil War, and explores several questions from the period: 
Without voting rights, what does the end of slavery mean for African-Americans?
 
Should former Confederates be welcomed back into Congress?
 
How do you end a civil war?
In addition, Professor Downs discusses ideas about reconciliation from President Lincoln's second inaugural address and decisions on Reconstruction made during the administration of Lincoln's successor, Andrew Johnson.
About C-SPAN
Created by the cable TV industry and now in 100 million TV households, C-SPAN programs three public affairs television networks in both SD and HD; C-SPAN Radio, heard in Washington DC and nationwide via XM Satellite Radio; and a video-rich website which hosts the C-SPAN Video Library. 
About The City College of New York 
Since 1847, The City College of New York has provided low-cost, high-quality education for New Yorkers in a wide variety of disciplines. More than 16,000 students pursue undergraduate and graduate degrees in: the College of Liberal Arts and Sciences; the Bernard and Anne Spitzer School of Architecture; the School of Education; the Grove School of Engineering; the Sophie Davis School of Biomedical Education, and the Colin Powell School for Civic and Global Leadership. U.S. News, Princeton Review and Forbes all rank City College among the best colleges and universities in the United States.