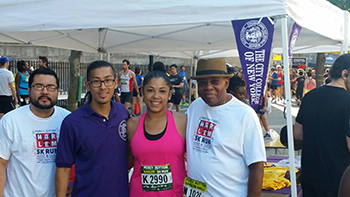 At The City College of New York, students, faculty and staff foster an environment rich in community engagement. As part of Harlem Week 2016, CCNY's commitment to improving and participating in community events shined at the Percy Sutton 5K Harlem Run and Walk.
"Our participation in this event serves not only to strengthen our ties and participation in the community but also to solidify our commitment to the improvement and advancement of the Harlem community," said Anthony Achille, team captain of CCNY.
As a member of The Greater Harlem Chamber of Commerce, CCNY is a sponsor of Harlem Week and has been an active participant since the run's inception in 2008.
Participants and community members learned about Admissions and programs, Continuing and Professional Studies and the Sophie Davis School of Biomedical Education at the college's information booth during the Harlem Week event.
"[The booth] provides visibility for the college and the services that we offer to the community in terms of educational advancement and social and economic mobility," said Achille.
With over 4000 participants at the race, the New York Road Runners deemed the Percy Sutton 5K Harlem Run one of the qualifying races for the TCS New York City Marathon.  Sarai Perez felt the comradery and connection to historic Harlem.
"As a runner and resident of Harlem, I felt a deep sense of community doing this race; I felt the love from other participants and running crews," said Perez, one of 87 CCNY students, faculty and staff who registered for the race.
About The City College of New York
Since 1847, The City College of New York has provided low-cost, high-quality education for New Yorkers in a wide variety of disciplines. More than 15,000 students pursue undergraduate and graduate degrees in the College of Liberal Arts and Science; Bernard and Anne Spitzer School of Architecture; School of Education; Grove School of Engineering; Sophie Davis Biomedical Education/CUNY School of Medicine; and the Colin Powell School for Civic and Global Leadership. U.S. News, Princeton Review and Forbes all rank City College among the best colleges and universities in the United States.