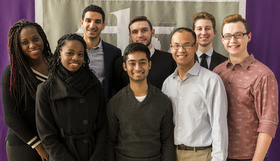 For the second year running, seven City College of New York student members of the
 Roosevelt Institute 
have had five papers accepted for publication in the Institute's annual "10 Ideas Series" coming out in April. The booklet is a compilation of papers by Roosevelt student chapter members from the progressive non-profit organization's more than 120 affiliated campuses. 
Moustafa Elshaabiny, president of the City College chapter, said by equaling the five CCNY papers published by the Institute last year, this new cohort had upheld the college's reputation as one of top chapters in the Roosevelt network. 
The City College authors and their papers are:
Fatjon Kaja (junior, BA/MA program economics and pre-law), Gregg Stevens (senior, BA/MA program economics) and Alvin Christian (junior, BA/MA program economics): "Subsidizing Electric Cars to Resolve Economic Inefficiencies";
 
Matthew Lazo (junior, geology), "Equal Internet Access for Equal Opportunity"; 
 
Keanoo Hill (fourth-year, Sophie Davis School of Biomedical Education BS/MD program), "Closing the Adolescent Health Service Gap in Community Health Centers";
 
Nadine Pratt (third-year, Sophie Davis School of Biomedical Education), "Expanding the Role of Primary Care in Guyana";
 
Josh Kemp (sophomore, international studies), "Cognitive Enhancement Through Multilingualism: Empowering Students through Elementary Dual Language Immersion."
The Roosevelt Institute's "10 Ideas Series" encourages students to research problems and issues in their community or around the world and write a policy proposal on how to address that problem. Student proposals have the potential to be incorporated into action plans for government officials.
About The City College of New York
Since 1847, The City College of New York has provided low-cost, high-quality education for New Yorkers in a wide variety of disciplines. More than 16,000 students pursue undergraduate and graduate degrees in: the College of Liberal Arts and Sciences; the Bernard and Anne Spitzer School of Architecture; the School of Education; the Grove School of Engineering; the Sophie Davis School of Biomedical Education, and the Colin Powell School for Civic and Global Leadership. U.S. News, Princeton Review and Forbes all rank City College among the best colleges and universities in the United States.