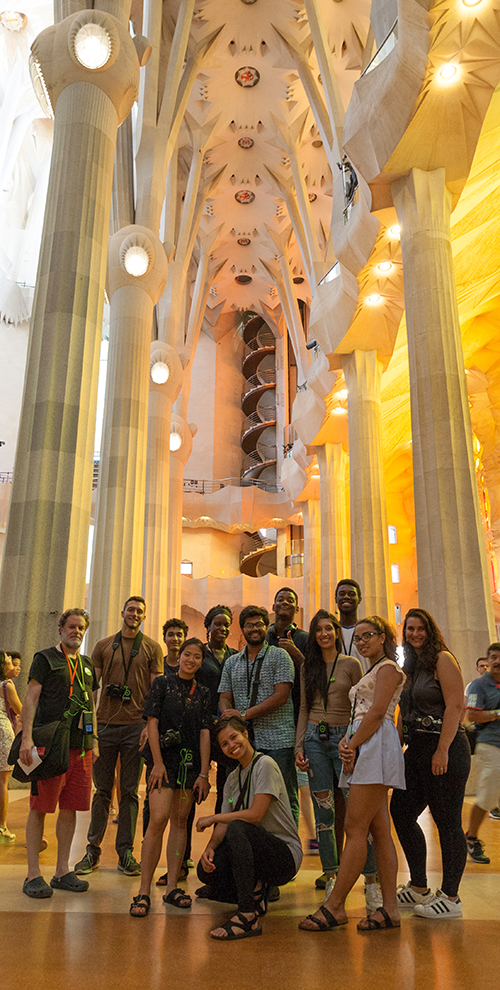 Two architecture students, from the Bernard and Anne Spitzer School of Architecture at The City College of New York, are studying in Barcelona, Spain this fall. Renowned for its unique and historical architecture, these students are taking in all Barcelona has to offer on Castagna Architectural Scholarships.
Since its inception in 2016, the scholarship has provided support to nine architecture students who have achieved academic excellence and demonstrated financial need.
Architecture students, in both the bachelor and master's programs, receive a full year's tuition and a study abroad and book stipend as winners of the scholarship. Past recipients have studied in Berlin in spring and in Spain in summer and fall.
"The Castagna Scholarship allows immersion into other cultures - broadening ones outlook, acceptance, and integration of new cultural ideas," said Solomon Oh, a fifth year Spitzer student who studied in Barcelona this summer. "Studying in Barcelona revealed the city's positive permeability between public and private realms; the experience will indefinitely inform my practice of design."
Fall study abroad participants in Spain are:
Matthew Shufelt, M. Arch; and
Rachel Ware, M. Arch.
The Spitzer School's hope is continued support for past and eligible winners and the inclusion of seven to eight new winners for fall 2018 and spring 2019. The scholarships are made possible through the foundation's generosity and continued commitment to public education.
About The City College of New York
Since 1847, The City College of New York has provided low-cost, high-quality education for New Yorkers in a wide variety of disciplines. Today more than 16,000 students pursue undergraduate and graduate degrees in eight professional schools and divisions, driven by significant funded research, creativity and scholarship.  Now celebrating its 170th anniversary, CCNY is as diverse, dynamic and visionary as New York City itself.  View CCNY Media Kit.