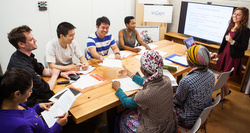 The City College of New York's Zahn Innovation Center andStandard Chartered Bank are set to ramp up their partnership after a successful first semester of collaboration.The two announced the Standard Chartered Technology Incubator for Women Entrepreneurs program last December. The program supports greater diversity in gender representation within technology entrepreneurship.
Since then, the Zahn Center has benefitted from a resource center for early-stage women entrepreneurs, and a $30,000 prize for student start-ups established by Standard Chartered.
A highlight of the next stage is an elective course, "Entrepreneurship: Women & Diversity," at City College this fall. The Zahn Center and CCNY's economics department will lead a seminar-structured course with a mix of lectures, guest speakers, and case studies. In addition, Standard Chartered will work with the Zahn Center to share case studies and build in financial education.
Also scheduled for the fall is a panel discussion and "hackathon."
In the run-up to these activities, City College students are participating in the Zahn Center's summer accelerator course supported by Standard Chartered Bank staff mentors. The accelerator meetings, both on campus and at Standard Chartered's mid-Manhattan office, continue through August. 
About The City College Fund
The City College Fund is a tax-exempt 501c(3) non-profit fundraising organization, established in 1946 to support The City College of New York in its mission to provide access and excellence in higher education, particularly to students who might not otherwise be able to afford to go to college. Gifts to The City College Fund directly benefit City College's extraordinary students, renowned faculty, innovative programs and schools.
About The City College of New York
Since 1847, The City College of New York has provided low-cost, high-quality education for New Yorkers in a wide variety of disciplines. More than 15,000 students pursue undergraduate and graduate degrees in the College of Liberal Arts and Science; the Bernard and Anne Spitzer School of Architecture; the School of Education; the Grove School of Engineering; the Sophie Davis School of Biomedical Education; and the Colin Powell School for Civic and Global Leadership. U.S. News & World Report, Princeton Review and Forbes all rank City College among the best colleges and universities in the United States.