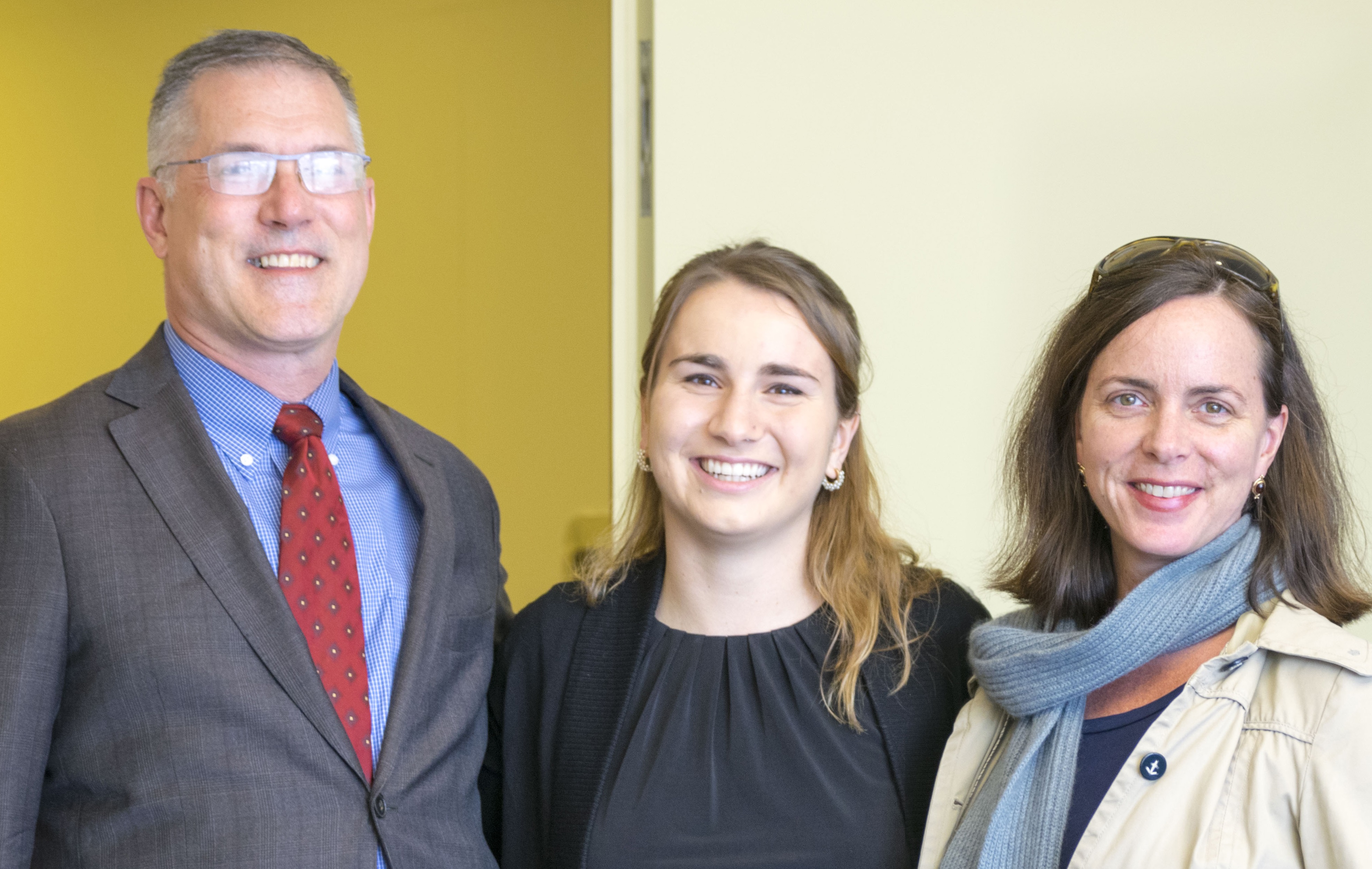 CCNY Junior Claire Lynch is Selected for Prestigious Public Service Scholarship 
At a surprise meeting outside his office, President Vincent Boudreau had the pleasure of telling City College junior Claire Lynch that she is the recipient of a 2017 Truman Scholarship for Public Service. "Congratulations, Claire, you are a Truman Scholar. This is a huge deal."
Boudreau told Lynch, who is a double major in political science and Jewish Studies, "This is life-changing. We've had Truman Scholars here at City College and we speak to them five, ten, fifteen years down the line, and they tell us it changed everything."
Recipients of the Truman Scholarship receive a $30,000 scholarship toward graduate school and the opportunity to participate in professional development programming to help prepare them for careers in public service leadership.
"I'm so grateful to the entire Truman community at City College," said Lynch, who met with previous finalists and winners during the application process. "I was incredibly prepared for what was a very intensive interview and I'm so thankful for all the help I had." 
Lynch thanked Jennifer Lutton, the National Scholarship Coordinator for City College, for her unwavering support and advice; and credited Michael Busch, associate director of the Office of Student Success at the Colin Powell School for Civic and Global Leadership, who "recommended me for the scholarship and convinced me to apply when I didn't think I had a chance."
"Claire's interests and goals include working in refugee camps in the Middle East," said Lutton. "She wants to work on the ground helping to run programs and handle logistics in tense and difficult settings. Her interest in this kind of work comes from a genuine sense of responsibility towards others and a confidence that she can make meaningful contributions through service. She's also warm, upbeat, and has an excellent sense of humor."
Criteria for Truman Scholarship selection include an extensive record of campus and community service; commitment to a career in government or the nonprofit and advocacy sectors; communication skills and a high probability of becoming a "change agent"; and a strong academic record with likely acceptance to the graduate school of the candidate's choice.
Lynch is a student in the Macaulay Honors College, as well as the Colin Powell School and the Division of Humanities and the Arts. As for graduate school, Lynch is interested in migration, immigration, and refugee issues. She is considering a master's in public policy, a master's in Middle Eastern studies, or possibly law school. 
City College has had six Truman Scholars since 2006.
The Harry S. Truman Scholarship Foundation was created by Congress in 1975 to be the nation's living memorial to President Harry S. Truman. The Foundation has a mission to select and support the next generation of public service leaders. The Truman award has become one of the most prestigious national scholarships in the United States.
Annually, candidates for the Truman Scholarship go through a rigorous, multi-stage selection process. In 2017, there were 768 candidates for the award nominated by 315 colleges and universities, a record number of institutions. The 199 finalists for the award were interviewed in March and early April at one of sixteen regional selection panels.
Sixty-two new Truman Scholars
were selected in 2017. They will receive their awards in a ceremony at the Harry S. Truman Presidential Library and Museum on Sunday, May 28, 2017.
About The City College of New York
Since 1847, The City College of New York has provided low-cost, high-quality education for New Yorkers in a wide variety of disciplines. More than 15,000 students pursue undergraduate and graduate degrees in eight professional schools and divisions. View
CCNY Media Kit
.