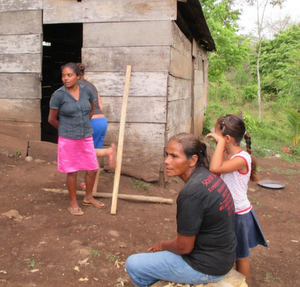 The City College of New York student chapter of Engineers without Borders' (EWB-USA CCNY) latest initiative is a water access project to benefit a rural community in Siuna, Nicaragua. Currently, 46 percent of the Tadazna community or approximately 370 people, lack access to drinking water.
The project adopted by the chapter entails the construction of six groundwater wells in the locality. Each well is intended to support approximately one to five families. The design of the wells will allow for clean and safe water for daily use and consumption, decreasing the risk of contamination and disease.
While certain sectors of Tadazna have access to a municipal potable water system, the rural landscape and sprawling community leave 46 percent of its population without easy access to water. Many residents often resort to collecting untreated and unhygienic water from unsanitary sources.
Five EWB-USA CCNY chapter members and a mentor, Associate Professor of Civil Engineering Michael Piasecki, will travel to Tadazna this April on an assessment trip. The most important aspect of the trip will be building a genuine relationship with the community and understanding the culture there.
The technical objectives of the assessment will focus on data-collection such as water quality and land surveys, which will later be used in the engineering design process.
The Tadazna Project team comprises students from a range of engineering and science disciplines.
In addition to Piasecki, another Grove School of Engineering faculty member, Assistant Professor of Civil Engineering Beth Wittig, will advise the team.
About The City College of New York
Since 1847, The City College of New York has provided low-cost, high-quality education for New Yorkers in a wide variety of disciplines. More than 15,000 students pursue undergraduate and graduate degrees in the College of Liberal Arts and Science; Bernard and Anne Spitzer School of Architecture; School of Education; Grove School of Engineering; Sophie Davis Biomedical Education/CUNY School of Medicine; and the Colin Powell School for Civic and Global Leadership. U.S. News, Princeton Review and Forbes all rank City College among the best colleges and universities in the United States.