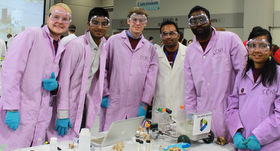 The City College of New York's American Institute of Chemical Engineering chapter is back from the 2015 Annual Student Conference Chem-E-Car Competition® in Salt Lake City with the Spirit of Competition Award. In addition, two members of the City College team, seniors Sneha Gopal and Pavel Shapturenka, both received awards in AIChE's national poster competition.
In the Chem-E-Car performance competition, "RuSTi," the CCNY entry, finished in 13th out of 34 finalists from top universities in the United States, Canada, the Middle East and Asia. CCNY qualified for the national finals after placing fourth at the Mid-Atlantic regional finals the University of Maryland.
The objective of the ChemE-Car competition is to build a car, the size of a shoebox, which runs and stops at a precise distance via one or more chemical reactions.
CCNY's Grove School of Engineering undergraduates have excelled at the AIChE finals in recent years. Their honors include a second place finish in 2013 with "REAKTER."
This year's team, all chemical engineering majors, comprised:
Sunny Aggarwal; 
Mohammed Alam; 
Mena-George Basaly;
Dimitri Foster, (AIChE chapter president);
Andrew Gannon; 
Sneha Gopal; 
Abir Khandaker; 
Ma Khine Khine; 
Kata Kozma, (chapter vice president);
Paulina Librizzi;
Donald Mitchell (captain); 
Dilan Mataraarachchi; 
Koffi Olympi; 
Mohammed Rony; 
Sandy Rosas; 
Indroneil Roy; 
Sherin Sam; 
Pavel Shapturenka; 
Shomir Uddin; 
Salima Varese; 
Dennis Wood; and
Sulaiman Zaib, 
The team produced a video before traveling to Salt Lake City. Click here to view it.
About The City College of New York
Since 1847, The City College of New York has provided low-cost, high-quality education for New Yorkers in a wide variety of disciplines. More than 16,000 students pursue undergraduate and graduate degrees in: the College of Liberal Arts and Sciences; the Bernard and Anne Spitzer School of Architecture; the School of Education; the Grove School of Engineering; the Sophie Davis School of Biomedical Education, and the Colin Powell School for Civic and Global Leadership. U.S. News, Princeton Review and Forbes all rank City College among the best colleges and universities in the United States.