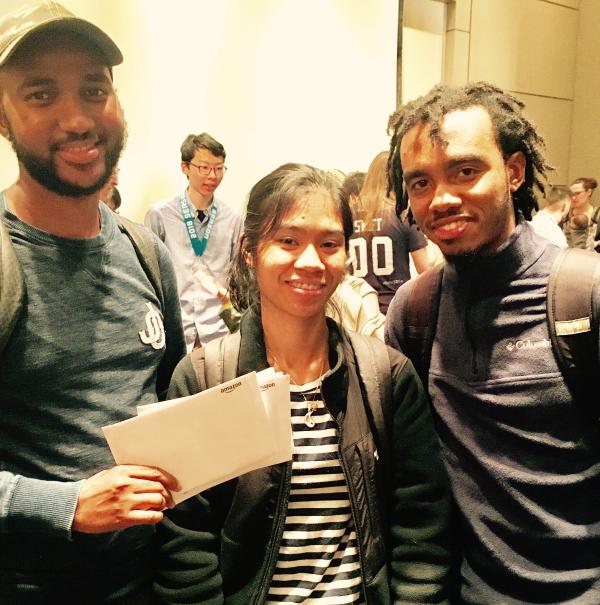 hackNY winners, left to right, Amarou Bah, Kirstyn Natavio and Dwayne Johnson
The City College of New York sent students to three prestigious hackathons for developing innovative technologies in October, and CCNY participants were winners in all three.
At hackNY's fall 2017 Student Hackathon, students presented their technologies and built original applications. Kirstyn Natavio, a Computer Science sophomore, working with Computer Engineering juniors Dwayne Johnson and Amarou Bah, were awarded Best Hack using a NYC Application Programming Interface (API) for their Emergency 911 app that lets bystanders connect and stream data of an emergency to 911 and other help resources based on degree of emergency.
At Georgia Tech's HackGT4, Computer Science sophomore Adomas Hassan won Best Career Hack, snaring one of 15 sponsor prizes out of 800 attendees and over 3000 applicants. Adomas formed a team with three students from Nebraska and Greece, and set out to build an optical scan app, CardCache, that collates biz cards, emails, photos and assorted data so you can recall whom you met, what you spoke about, and who your shared contacts are.
And at the high-profile MIT Media Lab AR/VR Hackathon in Boston, CCNY and Team Centiment finished 11th out of more than 400 entrants. Computer Science freshmen Jason Azayev and Benjamin Reichman, Electrical Engineering sophomore Guy Carlos Villette, and Computer Engineering junior Satyam Sharma joined Artificial Intelligence company founder and CEO Micah Brown at the three-day event. The team created a program using neuroscience and EEG brain activity data to measure whether a person had a positive or negative reaction to advertisements shown. Judges called Team Centiment's engineering skills and code "superlative." 
About The City College of New York
Since 1847, The City College of New York has provided low-cost, high-quality education for New Yorkers in a wide variety of disciplines. Today more than 16,000 students pursue undergraduate and graduate degrees in eight professional schools and divisions, driven by significant funded research, creativity and scholarship.  Now celebrating its 170th anniversary, CCNY is as diverse, dynamic and visionary as New York City itself.  View CCNY Media Kit.