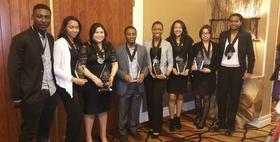 City College students placed first in five fields at the 23rd Annual Collegiate Science and Technology Entry Program (CSTEP) conference at The Sagamore on Lake George-in-Bolton Landing, NY, April 19. The College also recorded one second place finish.
The winning students from the Division of Science, their mentors and poster presentations were:
Quetanya Brown, mentored by Adrian Rodriguez-Contreras, placed second in biology. With the exception of Abjulai, all the students are graduating seniors. The team was led upstate byNkem Mbamelu Stanley, associate director of the City College Academy for Professional Preparation (CCAPP).
CSTEP is a New York Statewide initiative aimed at increasing the number of historically underrepresented and economically disadvantaged students pursuing careers leading to professional licensure or professions in mathematics, science, technology and health-related fields.
About The City College of New York
Since 1847, The City College of New York has provided low-cost, high-quality education for New Yorkers in a wide variety of disciplines. More than 16,000 students pursue undergraduate and graduate degrees in: the College of Liberal Arts and Sciences; the Bernard and Anne Spitzer School of Architecture; the School of Education; the Grove School of Engineering; the Sophie Davis School of Biomedical Education, and the Colin Powell School for Civic and Global Leadership. U.S. News, Princeton Review and Forbes all rank City College among the best colleges and universities in the United States.