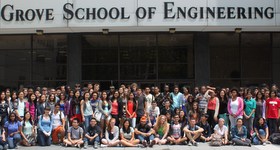 One hundred and sixty students from 50 high schools across the five boroughs will attend the 2015 New York STEM Institute summer program June 29 – August 7 at the City College of New York. The goal of the Institute is to prepare high school students, particularly women and underrepresented minorities, to successfully pursue college majors in science, technology, engineering and mathematics (STEM).  
The Institute is a free, intensive six-week program in math (advanced algebra to calculus), science (chemistry and physics), and critical writing and reading. Admission is based on a math placement exam for students in grades nine through 11. Students take a math course and a second course in either science or writing and receive elective high school credits for courses. Click here for more information.
The STEM Institute is a program of the City College Fund. It is supported this year by the Office of the Provost (CCNY), alumnus Alan Levine '57ME, the Lincoln Fund, the Dorr Foundation, the Bruce J. Heim foundation, and the New York City Department of Education (NYC DOE).
Monday, June 29 marks the start of several other summer programs at City College. These include:
The 10th Summer Architecture Program and the third annual Summer Mock Tri Program, both presented byCollege Now at CCNY. Approximately 24 students from high schools throughout the city are scheduled to participate in each program, June 29 through August 6;
The 20th Urban Scholars Summer Program at City College, June 29 – August 7, which provides 100 high achieving high school students from Harlem a taste of college life. It mixes academics and discussions on college careers with social enrichment;
IUSL Photonics Training Summer Program, July 7- August 21. This annual program offers high school students an opportunity for applied research in photonic science and technology in the CCNY-based Institute for Ultrafast Spectroscopy and Lasers; and
Architecture Summer Career Lab, July 6 – July 31. Pre-college level courses are open to high school juniors and seniors 16 years or older. College students and adults 18 or older are eligible to take college and adult level courses. No prior experience in architecture or design is necessary at both levels. 
Also starting on June 29 is the 2015 HIRES summer internship program which has attracted 40 New York City high school students. The program, which runs through August 14, provides its young participants with research experience in STEM fields.
About The City College of New York
Since 1847, The City College of New York has provided low-cost, high-quality education for New Yorkers in a wide variety of disciplines. More than 15,000 students pursue undergraduate and graduate degrees in: the College of Liberal Arts and Sciences; the Bernard and Anne Spitzer School of Architecture; the School of Education; the Grove School of Engineering; the Sophie Davis School of Biomedical Education, and the Colin Powell School for Civic and Global Leadership. U.S. News, Princeton Review and Forbes all rank City College among the best colleges and universities in the United States.