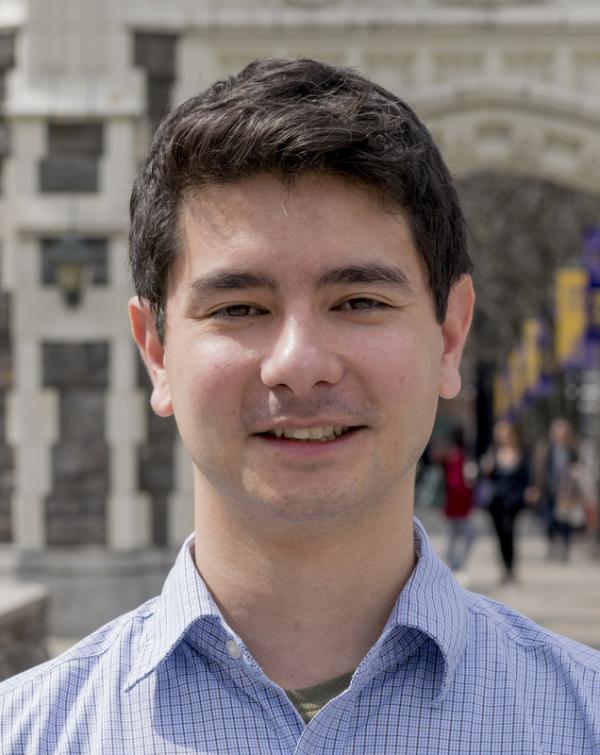 Roland Maio, a computer science major from the Class of 2018, is one of three CCNY recipients of 2018 NSF Graduate Research Fellowships.
Roland Maio, a member of The City College of New York's Class of 2018, and two recent CCNY graduates are recipients of National Science Foundation (NSF) Graduate Research Fellowships. The three awards to City College are the most among the nine fellowships to City University of New York schools.
The fellowships recognize and support exceptional students who have proposed graduate-level research projects in their fields. Selection is through a national competition. 
In addition to Maio, CCNY's other NSF fellows and their research thrusts and new schools are:
Stanley Ko, marine geology and geophysics, Rutgers University New Brunswick;
 
Lizhi Liu, systems and molecular biology; Columbia University.          
Fellows receive an annual stipend of $34,000 and $12,000 cost-of-education allowance for graduate study that leads to a research-based master's or doctoral degree in science or engineering.
A Marine Corps veteran, Maio is a computer science major in the Grove School of Engineering. He'll pursue a PhD in the field at Columbia University this fall. His focus will be machine learning fairness and he will do his research in Augustin Chaintreau's lab at Columbia.   
In addition to the NSF Fellowship, Maio has received a Presidential Distinguished Fellowship from Columbia. It is awarded to a select group of outstanding incoming doctoral students and provides funding for four years.
At CCNY, the Greenwich, Connecticut, resident has been a City College Fellow and a Knight Hennessy Scholarship finalist. Maio has been mentored by  Sean Cleary, Isabel Estrada, Jennifer Lutton and Rosario Genario.
About The City College of New York
Since 1847, The City College of New York has provided a high quality and affordable education to generations of New Yorkers in a wide variety of disciplines. Today The Chronicle of Higher Education ranks CCNY #2 among public colleges with the greatest success in ensuring the social mobility of our student body; at the same time the Center for world University Rankings places it in the top 1.2% of universities worldwide in terms of academic excellence. More than 16,000 students pursue undergraduate and graduate degrees in eight professional schools and divisions, driven by significant funded research, creativity and scholarship. CCNY is as diverse, dynamic and visionary as New York City itself.  View CCNY Media Kit.