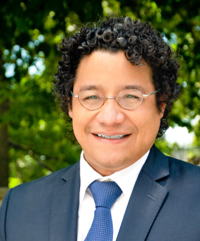 As part of the $2 million grant from the National Science Foundation, The City College of New York and the University of Puerto Rico at Mayagüez will virtually recreate Hurricane Maria and its impact on Puerto Rico. The virtual creation of the hurricane will enable research focusing on the critical infrastructure that left the island and its people without power and water for months.
According to principal investigator Jorge E. Gonzalez of the Grove School of Engineering, there is an urgent need for a better understanding of the future risks and expected damage due to extreme climate and catastrophic events that will most likely occur with more frequency and intensity, affecting most coastal tropical regions such as Puerto Rico and the Caribbean.
"Our research will integrate cutting-edge weather forecast models, data driven identification and characterization of damage to the physical infrastructure," said Gonzalez. "It will also integrate advanced approaches for analysis of community generated data and creative solutions for planning and scoping of the rebuilding process to be used for the long-term recovery of Puerto Rico."
Co-principal investigators include:
Reza Khanbilvardi, professor of civil engineering at the Grove School of Engineering and director of the NOAA-CREST Center
Masoud Ghandehari, professor of civil engineering at New York University
Eric Klinenberg, director of the Institute for Public Knowledge at New York University
T. Agami Reddy, professor of the School of Sustainable Engineering and the Built Environment, Arizona State University
Eric Harmsen, professor of agricultural and biosystems engineering at University of Puerto Rico-Mayagüez  
"The research will engage graduate and undergraduate students from CCNY and partner schools providing opportunities for unique training and learning via field data collection, community engagement to reconstruct the events, and in design studios to provide realistic scenarios for a resilient infrastructure and long term recovery of the Island," said Gonzalez.
About The City College of New York 
Since 1847, The City College of New York has provided a high quality and affordable education to generations of New Yorkers in a wide variety of disciplines. Today The Chronicle of Higher Education ranks CCNY #2 among public colleges with the greatest success in ensuring the social mobility of our student body; at the same time the Center for world University Rankings places it in the top 1.2% of universities worldwide in terms of academic excellence. More than 16,000 students pursue undergraduate and graduate degrees in eight professional schools and divisions, driven by significant funded research, creativity and scholarship. CCNY is as diverse, dynamic and visionary as New York City itself.  View CCNY Media Kit.