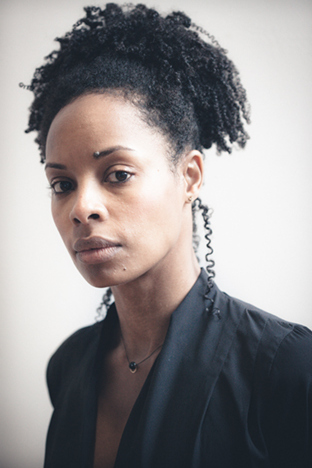 Award-winning poet and author Nicole Sealey is adding another accolade to her numerous honors. The Doris Lippman Visiting Poet in The City College of New York's MFA in Creative Writing Program is one of five winners internationally of 2019-2020 Hodder fellowships.
The awards are presented by Princeton University's Lewis Center for the Arts. They provide artists and humanists in the early stages of their careers, with "much more than ordinary intellectual and literary gifts," an opportunity to undertake significant new work.
Sealey's fellow nationally renowned co-recipients are:
Announcing the awards, Michael Cadden, chair of the Lewis Center, said, "Mrs. Hodder recognized the need for what she called 'studious leisure' to give people the time they need to tackle major projects. Her model was John Milton's father, who underwrote the research necessary to the creation of Paradise Lost. In the University's role as a patron of the arts, we're happy to welcome these five talented artists to the Princeton community. We hope they experience their Hodder year as 'paradise regained.'"
Past Hodder Fellows have included Librarian of Congress James H. Billington, novelist Chimamanda Ngozi Adichie, playwright and actor Danai Gurira, choreographer Nora Chipaumire, and composer and lyricist Michael Friedman.
Born in St. Thomas, U.S. Virgin Islands, Sealey is the author of "Ordinary Beast," a finalist for the 2018 PEN Open Book Award and the 2018 Hurston/Wright Legacy Award, and "The Animal After Whom Other Animals Are Named," winner of the 2015 Drinking Gourd Chapbook Poetry Prize.
Her other honors include the Stanley Kunitz Memorial Prize from The American Poetry Review, a Daniel Varoujan Award, and the Poetry International Prize. She has, in addition, received fellowships from the Bread Loaf Writers' Conference, CantoMundo, Cave Canem, MacDowell Colony, and the Poetry Project.
Sealey's work has appeared in numerous publications including The New Yorker and The New York Times.
The Doris Lippman Visiting Poet is a guest faculty position in the MFA program that is generously funded by the Lippman and Himmelfarb family.

About The City College of New York
Since 1847, The City College of New York has provided a high quality and affordable education to generations of New Yorkers in a wide variety of disciplines. CCNY embraces its role at the forefront of social change. It is ranked #1 by The Chronicle of Higher Education out of 369 selective public colleges in the United States on the overall mobility index. This measure reflects both access and outcomes, representing the likelihood that a student at CCNY can move up two or more income quintiles. In addition, the Center for world University Rankings places CCNY in the top 1.2% of universities worldwide in terms of academic excellence. More than 16,000 students pursue undergraduate and graduate degrees in eight professional schools and divisions, driven by significant funded research, creativity and scholarship. CCNY is as diverse, dynamic and visionary as New York City itself. View CCNY Media Kit.