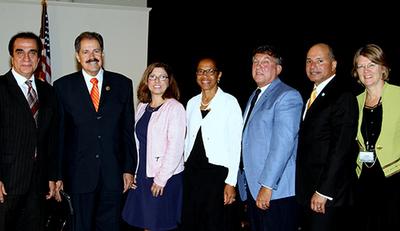 Officials at the NOAA Forum at CCNY. From left, Reza Khanbilvardi, Congressman Jose E. Serrano, CCNY President Lisa S. Coico, Dean of Engineering Gilda Barabino, former Deputy Secretary of Commerce at NOAA Scott Gudes, NOAA Deputy Administrator and Assistant Secretary of Commerce for Environmental Observation Prediction Vice Admiral Manson Brown, and NOAA Education Director Luisa Koch.
The City College of New York's output of underrepresented minority scientists and engineers for the National Oceanic and Atmospheric Administration is set to increase with the receipt of a $15.5 million grant from NOAA's Office of Education. The five-year award follows a national competition.
"The grant is in recognition of the fact that in the last fifteen years City College has been outstanding in achieving the goals of NOAA," said Reza Khanbilvardi, director of the NOAA-CREST Cooperative Science Center at CCNY.  "And those goals have been to advance the sciences for NOAA's operations and to produce a large numbers of graduates at all levels."
The lead NOAA institute in remote sensing science and technology, CCNY has produced more than half of the program's 486 graduates since its inception 15 years ago. These include 61 PhDs, 98 MS/ME recipients and 112 undergraduates.
These numbers, especially of graduates from underrepresented minority groups, are set to increase with the $15.5 million award. CCNY holds both Hispanic Serving Institution (HSI) and Minority Serving Institution (MSI) designations from the U.S. Department of Education.
About The City College of New York
Since 1847, The City College of New York has provided low-cost, high-quality education for New Yorkers in a wide variety of disciplines. More than 15,000 students pursue undergraduate and graduate degrees in the College of Liberal Arts and Science; Bernard and Anne Spitzer School of Architecture; School of Education; Grove School of Engineering; Sophie Davis Biomedical Education/CUNY School of Medicine; and the Colin Powell School for Civic and Global Leadership. U.S. News, Princeton Review and Forbes all rank City College among the best colleges and universities in the United States.