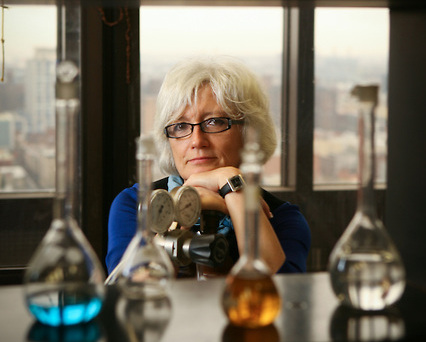 City College of New York chemistry Professor Teresa J. Bandosz' pioneering research has earned her a 2016-2017 Fulbright Senior Scholar Award. Bandosz, who also holds a professorship in chemical engineering at City College, will travel to the University of Malaga in Spain to conduct research that could help alleviate global warming and solve energy problems.
An authority on the application of adsorption to environmental problems, she will develop new catalysts based on porous carbons and special photoactive polymers. These will be able to convert carbon dioxide to fuels and add-on chemicals with the help of visible light. In turn, this energy harvesting process will help decrease global warming and will contribute to resolving energy problems.
Bandosz holds six patents and is responsible for controlling odor removal from the water pollution control plants in New York City.
Her research, which has been reported in more than 380 peer reviewed papers, nine book chapters and in more than 150 conference presentations.   
Among Bandosz' numerous honors is her appointment to the National Academies Committee on Examination of the Disposal of Activated Carbon from the Heating, Ventilation and Air Condition Systems at chemical agent disposal facilities.
She was a Sky Scholar/Guest Professor at Dalian Institute of Technology in Dalian, China, and is co-editor of the "Journal of Colloid and Interface Science - Elsevier."
About the Fulbright Scholar Program
Established in 1946 under legislation introduced by the late Sen. J. William Fulbright of Arkansas, the program's purpose is to build mutual understanding between the people of the United States and other countries. Fulbright Scholars are selected on the basis of academic or professional achievement and demonstrated leadership potential in their fields. 
About The City College of New York
Since 1847, The City College of New York has provided low-cost, high-quality education for New Yorkers in a wide variety of disciplines. More than 15,000 students pursue undergraduate and graduate degrees in the College of Liberal Arts and Science; Bernard and Anne Spitzer School of Architecture; School of Education; Grove School of Engineering; Sophie Davis Biomedical Education/CUNY School of Medicine; and the Colin Powell School for Civic and Global Leadership. U.S. News, Princeton Review and Forbes all rank City College among the best colleges and universities in the United States.