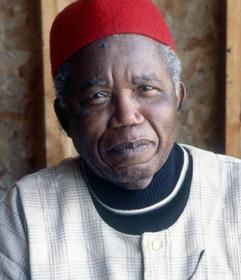 Ghanaian artist Nicole Amarteifio will be the inaugural speaker in the Chinua Achebe Legacy Series debuting Tuesday, September 30, at The City College of New York. Presented by CCNY's Black Studies Program, the series honors the late Nigerian writer, academic and critic whose first novel, "Things Fall Apart," is the most widely read book in modern African literature.
 
Ms. Amarteifio, creator of the YouTube series "An African City," will speak 6 – 8 p.m. in the North Academic Center (NAC) ballroom on the City College campus. Her talk is free and open to the public.
 
Three other speakers, all renowned African writers, are scheduled in the Legacy Series this fall:
 
October 9, Shepard Hall room 250, 6 – 8 p.m. Kenneth Binyavanga Wainaina, Kenyan author, journalist and winner of the Caine Prize for African Writing. Named by "Time" magazine in April 2014 as one of the 100 "Most Influential People in the World."
 
November 6, Amsterdam Room, 12 – 2 p.m. Laila Lalimi, Moroccan novelist and essayist, whose latest book "The Moor's Account" (Pantheon Books) will be published this month.
 
December 11, Shepard Hall room 250, 6 – 8 p.m. Sefi Atta, award-winning Nigerian author and playwright, whose books include "A Bit of Difference," "Swallow" and "Everything Good Will Come."
 
Dr. Cheryl Sterling, director of the Black Studies Program in the Division of Humanities and the Arts and an associate professor of English, said the Legacy Series is designed to pay homage to Mr. Achebe, who was once a visiting professor at City College.  
 
"He's an inspiration to anyone who studies the culture and literature of Africa," she said.
 
The series is made possible by several CCNY groups including the Simon H. Rifkind Fund, the Office of the Provost, Division of Humanities and the Arts and the Office of Government and Community Affairs. Emily Raboteau, associate professor of English, and Retha Powers, assistant director of CCNY's Publishing Certificate Program, helped organize the Series.  
 
About The City College of New York
Since 1847, The City College of New York has provided low-cost, high-quality education for New Yorkers in a wide variety of disciplines. More than 16,000 students pursue undergraduate and graduate degrees in: the College of Liberal Arts and Sciences; the Bernard and Anne Spitzer School of Architecture; the School of Education; the Grove School of Engineering; the Sophie Davis School of Biomedical Education, and the Colin Powell School for Civic and Global Leadership. U.S. News, Princeton Review and Forbes all rank City College among the best colleges and universities in the United States.