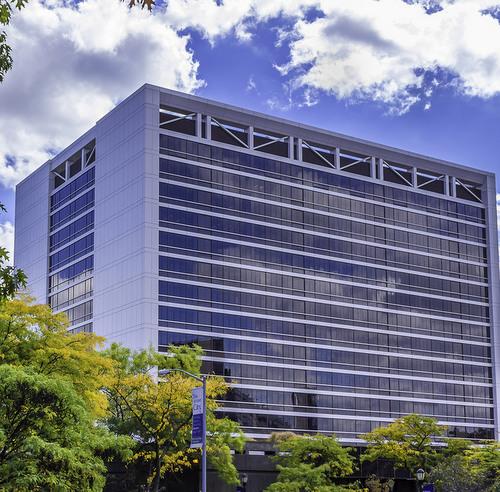 CCNY's Marshak building, which houses the Division of Science
The Division of Science at the City College of New York is pleased to announce a generous six-figure gift from the Chleck Family Foundation for the creation of the Chleck Family Scholarship & Graduate Research Fellowship in Science.
The fund will support undergraduate and graduate students with demonstrated financial need who are majoring in one of the following disciplines: Biology, Chemistry, Earth and Atmospheric Science, Mathematics, and Physics.
The scholarship fund was established in honor of City College alumnus David Chleck '48, a chemist and entrepreneur.
"The scholarship was designed to honor my grandfather's experience at City College and to help others have the same opportunities that he had through access to higher education," said Ross Levine, Chleck's grandson and executive director of the Chleck Family Foundation. "We wanted to make a gift that would have a real impact with young students and the college as well."
To be eligible for the undergraduate scholarships, incoming and current City College students must have a minimum 3.0 GPA and demonstrate continued improvement throughout their studies.
"We are grateful to the Chleck family for its support of the Division of Science and our students," said Tony Liss, Martin and Michele Cohen Dean of Science. "The graduate research fellowships will help lay the foundation for the next generation of scientists and scholars and further distinguish the Division of Science and CCNY for its prestigious research program."
About The City College of New York
Since 1847, The City College of New York has provided low-cost, high-quality education for New Yorkers in a wide variety of disciplines. More than 16,000 students pursue undergraduate and graduate degrees in: the College of Liberal Arts and Sciences; the Bernard and Anne Spitzer School of Architecture; the School of Education; the Grove School of Engineering; the Sophie Davis School of Biomedical Education, and the Colin Powell School for Civic and Global Leadership. U.S. News, Princeton Review and Forbes all rank City College among the best colleges and universities in the United States.