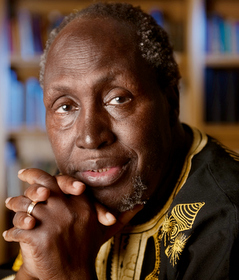 African literary greats Chris Abani and Ngugi wa Thiong'oconclude The City College of New York's Chinua Achebe Legacy Series with talks March 12 and April 23, respectively, at CCNY's upper Manhattan campus.
Abani will discuss his writing that's garnered him numerous honors, including the PEN Hemingway Book Prize and a Guggenheim Award, in a conversation with Emily Raboteau, 12:30 –2 p.m. Thursday, March 12, in City College's North Academic Center ballroom. Raboteau is associate professor of English at CCNY and a noted author. 
Abani's most recent book is "The Secret History of Las Vegas: A Novel" (Deckle Edge, 2014). 
On Thursday, April 23, City College welcomes the Kenyan-born Ngugi, whose books have been translated into more than 30 languages. He will be in conversation with author Okey Ndibe 6 –8 p.m. in Shepard 95.
Ngugi's classics include "Weep Not, Child" (Heinemann, 1964), "The River Between" (Heinemann, 1965) and "Petals of Blood" (Heinemann, 1977). He is the recipient of many international honors, including the 2001 Nonino International Prize for Literature and 10 honorary doctorates.
Both the Abani and Ngugi talks are free and open to the public but registration is required. To register for the Abani conversation, click here. For the Ngugi event, click here.
Presented by CCNY's Black Studies Program, the Chinua Achebe Legacy Series debuted last fall and has since featured several noted African authors. It honors the late Nigerian writer, academic and critic whose first novel, "Things Fall Apart," is the most widely read book in modern African literature.
About The City College of New York
Since 1847, The City College of New York has provided low-cost, high-quality education for New Yorkers in a wide variety of disciplines. More than 16,000 students pursue undergraduate and graduate degrees in: the College of Liberal Arts and Sciences;the Bernard and Anne Spitzer School of Architecture;the School of Education;the Grove School of Engineering;the Sophie Davis School of Biomedical Education, and the Colin Powell School for Civic and Global Leadership. U.S. News, Princeton Review and Forbes all rank City College among the best colleges and universities in the United States.