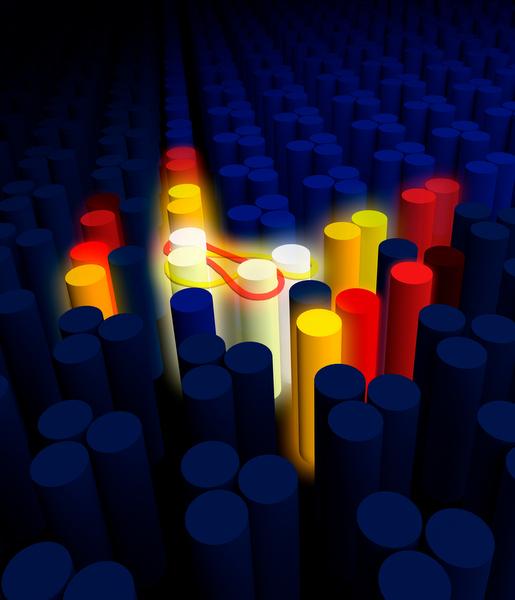 Illustration of light localized in space inside the topological crystal, entangled by interaction and topology (schematically shown by ribbons). Image credit: ITMO University.
A new approach to trapping light in artificial photonic materials by a City College of New York-led team could lead to a tremendous boost in the transfer speed of data online.

Research into topological photonic metamaterials headed by City College physicist Alexander B. Khanikaev reveals that long-range interactions in the  metamaterial changes the common behavior of light waves forcing them to localize in space. Further, the study shows that by controlling the degree of such interactions one can switch between trapped and extended (propagating) character of optical waves.

"The new approach to trap light allows the design of new types of optical resonators, which may have a significant impact on devices used on a daily basis, said Khanikaev. "These range from antennas in smartphones and Wi-Fi routers, to optical chips in optoelectronics used for transferring data over the Internet with unprecedented speeds."

Entitled "Higher-order topological states in photonic kagome crystals with long-range interactions," the research appears in the journal "Nature Photonics" published today.

It is a collaboration between CCNY, the Photonics Initiative at the Graduate Center, CUNY; and ITMO University in St. Petersburg, Russia.  As the lead organization, CCNY initiated the research and designed the structures, which were then tested both at CCNY and at ITMO University.

Khanikaev's research partners included: Andrea Alù, Mengyao Li, Xiang Ni (CCNY/CUNY); Dmitry Zhirihin (CCNY/ ITMO); Maxim Gorlach, Alexey Slobozhanyuk (both ITMO), and Dmitry Filonov (Center for Photonics and 2D Materials, Moscow Institute of Physics and Technology.

Research continues to extend the new approach to trap visible and infra-red light. This would further expand the range of possible applications of the   discovery.

About The City College of New York
Since 1847, The City College of New York has provided a high quality and affordable education to generations of New Yorkers in a wide variety of disciplines. CCNY embraces its role at the forefront of social change. It is ranked #1 by the Harvard-based Opportunity Insights out of 369 selective public colleges in the United States on the overall mobility index. This measure reflects both access and outcomes, representing the likelihood that a student at CCNY can move up two or more income quintiles In addition, the Center for World University Rankings places CCNY in the top 1.2% of universities worldwide in terms of academic excellence. More than 16,000 students pursue undergraduate and graduate degrees in eight professional schools and divisions, driven by significant funded research, creativity and scholarship. CCNY is as diverse, dynamic and visionary as New York City itself. View CCNY Media Kit.