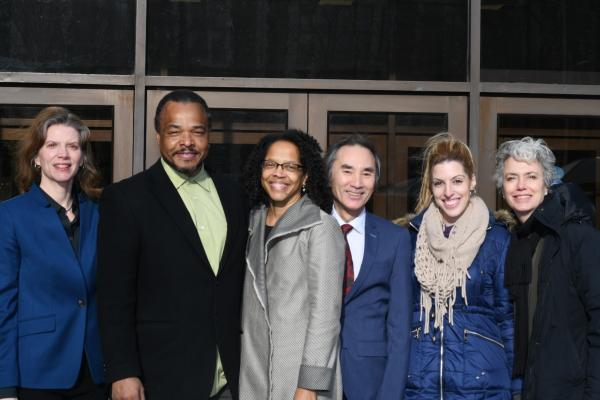 From left: Valerie Rutstein, Grove School Director of Finance & Administration; Associate Dean Ardie Walser; Dean Gilda Barabino; Computer Science Chair Akira Kawaguchi; Martha Hantzandreou, Computer Science Academic Advisor; and Teresa Scala, Special Project Administrator, Provost's Office, gather to celebrate CUNY 2x Tech.
The City College of New York has partnered with the NYC Department of Small Business Services (SBS) on a new initiative targeted at increasing the number of students graduating with tech-related bachelor's degrees.
In the fall of 2018, City College was awarded $2.3 million for CUNY 2x Tech, a 5-year, multi-million-dollar program that brings together CUNY senior colleges and NYC tech employers to better align tech education and industry needs. The initiative, launched under Mayor Bill de Blasio's administration, is part of the NYC Tech Talent Pipeline (TTP) and aims to double the number of tech-related bachelor's degrees from CUNY schools by the year 2022 and prepare students to launch careers in the NYC tech ecosystem.
"The idea of expanding opportunities in tech fields aligns perfectly with CCNY's core mission," CCNY president Vince Boudreau said. "We are excited to be part of a program which prepares the students of today to take advantage of employment opportunities in New York City's emerging technology economy."
CUNY 2x Tech has enrolled over 600 CUNY students in courses taught by industry professionals on emerging skills, including artificial intelligence and software engineering. The initiative provides support for industry-aligned instruction, academic advisors who are knowledgeable of tech industry needs, and access to tech internships/co-op programs.
Unique to CCNY, the Computer Science co-op program is a 2-semester long program that is designed to deliver qualified tech talent to local employers, as well as short-term professional opportunities to competitive NYC undergraduates. Students who take advantage of co-op can earn up to 9 credits while interning, and the program gathers valuable feedback from host businesses to better align tech education with the workforce needs of city employers.
Recent City College Computer Science graduates have been hired full-time at high-profile companies including BNY Mellon, GrubHub, and Microsoft. CCNY's participation in CUNY 2x Tech is expected to quickly expand on these successes as the partnership with the city moves forward.
About The City College of New York
Since 1847, The City College of New York has provided a high quality and affordable education to generations of New Yorkers in a wide variety of disciplines. CCNY embraces its role at the forefront of social change. It is ranked #1 by the Harvard-based Opportunity Insights out of 369 selective public colleges in the United States on the overall mobility index. This measure reflects both access and outcomes, representing the likelihood that a student at CCNY can move up two or more income quintiles. In addition, the Center for World University Rankings places CCNY in the top 1.2% of universities worldwide in terms of academic excellence. More than 16,000 students pursue undergraduate and graduate degrees in eight professional schools and divisions, driven by significant funded research, creativity and scholarship. CCNY is as diverse, dynamic and visionary as New York City itself.  View CCNY Media Kit.