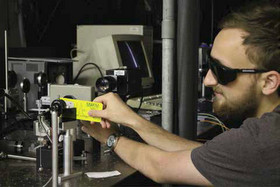 The City College of New York is a top producer of physics graduates in the nation, according to the American Institute of Physics. City College's physics department is on a list of programs recognized by the AIP for conferring the largest number of undergraduate physics degrees between 2012 and 2014.
Northern Arizona University, Miami University, University of Massachusetts and University of Texas are some of the institutions that make the list. It was compiled from data collected by the AIP in its annual AIP Enrollments and Degrees survey.
Dr. Alexios Polychronakos, chair of CCNY's physics department and a Fellow of the American Physical Society, said AIP's validation confirmed the growth and quality of the physics program at the college.
"In recent years, we've seen our enrollment increase tremendously and we've seen an increased interest by incoming students to pursue science majors and, in particular physics," said Polychronakos. "In addition, the quality of research done and the instruction offered by   our world class faculty are both outstanding." 
Lukas Lindwasser, a standout senior, said the physics department helps students succeed through the academic support and attention, including scholarships and internships, that it offers.
"You can tell that the professors care about teaching their students, and this creates a warm environment," he added. "In short, the physics department at CCNY does quite a lot to help their students succeed."
About The City College of New York
Since 1847, The City College of New York has provided low-cost, high-quality education for New Yorkers in a wide variety of disciplines. More than 16,000 students pursue undergraduate and graduate degrees in: the College of Liberal Arts and Sciences; the Bernard and Anne Spitzer School of Architecture; the School of Education; the Grove School of Engineering; the Sophie Davis School of Biomedical Education, and the Colin Powell School for Civic and Global Leadership. U.S. News, Princeton Review and Forbes all rank City College among the best colleges and universities in the United States.