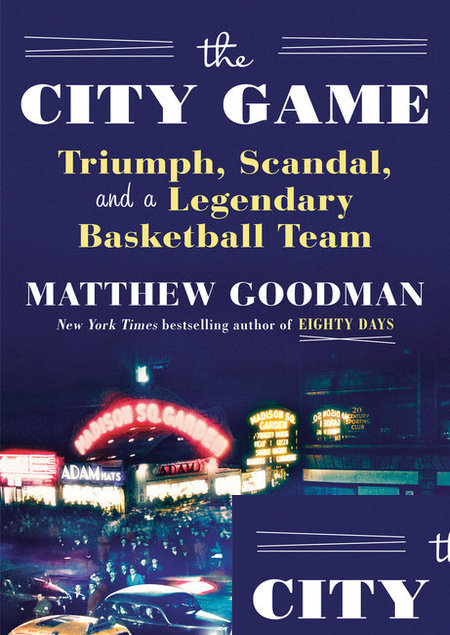 Almost 70 years after one of collegiate sport's most historic moments comes an absorbing narrative of the event and its aftermath. "The City Game: Triumph, Scandal, and a Legendary Basketball Team," a book by New York Times-bestselling author Matthew Goodman on The City College of New York's greatest athletic achievement, publishes on Tuesday, Nov. 5.
The official launch, featuring Goodman, takes place at CCNY's Great Hall, in Shepard Hall, 7:30 – 9:30 p.m. on Nov. 5. It is free and open to the public. Click here to register and reserve a ticket.
"The City Game" tells the thrilling and heartbreaking story of the 1949-50 City College Beavers, a team composed entirely of Jewish and African-American players, led by acclaimed head coach Nat Holman.
"In becoming the only team in history to win the NIT and NCAA championships in a single year, the Beavers carried a college's — and a city's — brightest hopes, of racial harmony, social mobility, and the triumph of the underdog," said Goodman. "Just a year later, though, that success was followed by a shocking downfall, when seven of the team's stars were arrested and charged with conspiring with gamblers to shave points. Almost overnight, heroes turned into villains."
From Penguin Random House, the 448-page title has earned glowing reviews for Goodman's narrative.  
"In this book, Matthew Goodman has given us the tremendous gift of our athletic history: recovered in loving detail and with the necessary context that returns humanity to our story," said Vincent Boudreau, president of The City College.  
"Matthew Goodman tells this remarkable story—simultaneously stirring and upsetting—with the skills it merits: deep reporting, insightful writing, and a sure-footed comprehension of time and place," offered Daniel Okrent, another New York Times bestselling author whose books include "The Guarded Gate."
Publishers Weekly writes: "Fans of college hoops will devour Goodman's excellent history. . .  Goodman effectively combines interviews and extensive research to definitively recreate the unfortunate story of the 1949–50 City College of New York basketball team…"
"The City Game" can be pre-ordered at Amazon and Barnes & Noble.
About the Author
Matthew Goodman is the author of three previous books of nonfiction: "Eighty Days: Nellie Bly and Elizabeth Bisland's History-Making Race Around the World;" "The Sun and the Moon: The Remarkable True Account of Hoaxers, Showmen, Dueling Journalists, and Lunar Man-Bats in Nineteenth-Century New York;" and "Jewish Food: The World at Table." A New York Times bestseller, "Eighty Days" has been translated into eight languages. Goodman's work has appeared in The American Scholar, Harvard Review, Salon, and many other publications.
About The City College of New York
Since 1847, The City College of New York has provided a high quality and affordable education to generations of New Yorkers in a wide variety of disciplines. CCNY embraces its role at the forefront of social change. It is ranked #1 by the Harvard-based Opportunity Insights out of 369 selective public colleges in the United States on the overall mobility index. This measure reflects both access and outcomes, representing the likelihood that a student at CCNY can move up two or more income quintiles In addition, the Center for World University Rankings places CCNY in the top 1.2% of universities worldwide in terms of academic excellence. More than 16,000 students pursue undergraduate and graduate degrees in eight professional schools and divisions, driven by significant funded research, creativity and scholarship. CCNY is as diverse, dynamic and visionary as New York City itself. View CCNY Media Kit.