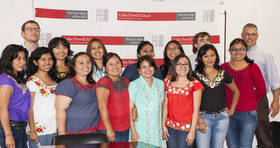 Eleven Mayan women have started a month-long leadership training course in the Colin Powell School for Civic and Global Leadership at The City College of New York. All college graduates, they are the first cohort in a new exchange program between the Colin Powell School and Mexico's Yucatan State.
The program is designed to enrich and empower students in both countries. In addition to intensive English classes, the participants are required to explore solutions for socioeconomic problems that they have identified in their respective towns. 
For Desyi Guadalupe Colli Pinto, who holds a degree in marketing and international business, that means addressing the voter apathy she's discerned in Merida, Yucatan's state capital. "I'm trying to find a solution to encourage the public to participate in the political process," she said.
Colli Pinto and her colleagues will also learn about graduate opportunities at City College and visit cultural attractions in New York City.  
 
The other members of the group are:
Ana Gabriela Cen Caamal;
Angelina Martinez Gomez;
Karen Guadalupe Celis Beltran;
Guelmy Anilu Chan Mutul;
Miriam Uitz May;
Militza Anahi Flota Castillo;
Nidia Esther Hau Yama;
Arody Zazil Colli Ku;
Monica Andrea Pech Cardenas; and
Maria Mariela Bessy Avilez Chi.
The exchange group also includes Flor Marcela Poot May, a coordinator from the Council for Science, Innovation and Technology of Yucatan, the Colin Powell School's Mexican partners.
The partnership will also afford students in the Colin Powell School new opportunities for study abroad and service-learning courses, already emphasized in its international studies program.
About The City College of New York
Since 1847, The City College of New York has provided low-cost, high-quality education for New Yorkers in a wide variety of disciplines. More than 15,000 students pursue undergraduate and graduate degrees in: the College of Liberal Arts and Sciences; the Bernard and Anne Spitzer School of Architecture; the School of Education; the Grove School of Engineering; the Sophie Davis School of Biomedical Education, and the Colin Powell School for Civic and Global Leadership. U.S. News, Princeton Review and Forbes all rank City College among the best colleges and universities in the United States.