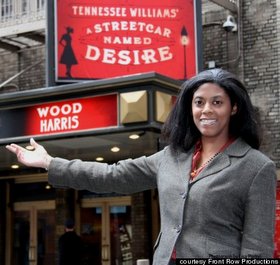 Award-winning producers Richard Martin and Alia Jones-Harvey and voiceover guru Evan Malter are among noted professionals teaching media and theatrical courses this spring in The City College of New York's Continuing and Professional Studies (CPS) program. 
Mr. Martin, a television journalist who has worked for NBC, CBS and CNN, will teach an eight-session visual storytelling class, 6:30 – 8:30 p.m. Wednesdays, May 14 through June 18. It covers creating, designing, editing, scoring and producing stories using digital media.  
Ms. Jones-Harvey, an internationally renowned Broadway producer and 2010 recipient of the Laurence Olivier Award, leads a class on Producing for Broadway, 5:30 – 7:30 p.m., Wednesdays May 7 through June 11. The course teaches the skills and knowledge needed to mount a world-class theater production. 
Voiceover manager Evan Malter presents a two-course sequence titled "Behind the Mic: The Business & Art of Voice Acting." The first course, which meets five times and covers the art of voice acting, is offered 6 – 8 p.m. Monday and Wednesday, April 16 through April 30. Mr. Malter's second class, covering the business of voice acting, commences May 5 and runs for five sessions 6 – 8 p.m., Mondays and Wednesdays through May 19.
Mr. Malter, who has 10 years' experience as a voiceover actor, will share insider knowledge of the industry. The course includes an in-depth study of scripts, contracts, agents and acting unions.
For more information on CPS and its offerings, call (212) 650-7312, or visit /cps/.
Continuing and Professional Studies at CCNY
Established in 1997 as The City College Adult and Continuing Education Program, CPS offers quality, lifelong education. Over 40,000 New Yorkers have benefited from its continuing education programs, picking up new skills and fresh knowledge in their quest to better their lives. Its mission was expanded this year to provide training for professionals that need advanced credentials to advance their careers. This is backed by the extensive CCNY faculty expertise in architecture, engineering, education, biomedical sciences, digital media and other areas. 
 
About The City College of New York 
Since 1847, The City College of New York has provided low-cost, high-quality education for New Yorkers in a wide variety of disciplines. More than 16,000 students pursue undergraduate and graduate degrees in: the College of Liberal Arts and Sciences; the Bernard and Anne Spitzer School of Architecture; the School of Education; the Grove School of Engineering; the Sophie Davis School of Biomedical Education, and the Colin Powell School for Civic and Global Leadership. U.S. News, Princeton Review and Forbes all rank City College among the best colleges and universities in the United States.