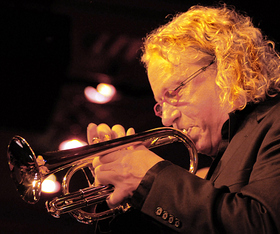 The 13th Annual CUNY Jazz Festival, a gathering of bands and ensembles from across the CUNY system, takes place May 2-3 in Aaron Davis Hall, Theatre B, at The City College of New York, 135th Street and Convent Avenue, Manhattan. Trumpet player Tim Hagans, hailed by "The New York Times" as "a firecracker of a trumpeter," will be the festival's guest artist.
The festival features ensembles from CCNY and four other CUNY colleges: Hunter, Queens, York and the College of Staten Island. It commences 12 Noon Thursday, May 2, with a performance by the CCNY Jazz faculty ensemble, composed of several internationally acclaimed jazz artists. The senior jazz ensemble from LaGuardia High School will also perform.
Student groups perform 1 p.m. to 5:30 p.m. Thursday and 12 Noon to 5:30 p.m. Friday. The final Gala Concert begins 7:30 p.m. Friday, May 3, with a performance by one of the City College graduate jazz ensembles. "The Tim Hagans Quartet," composed of Mr. Hagans plus Dave Stryker on guitar, Rufus Reid on bass and Jukkis Uotila on drums, will close the festival with a performance at 8:30 p.m. Friday.
"Tim Hagans is one of the most important voices of modern jazz trumpet. I am thrilled to have him as our guest artist at the 2013 Festival," said Professor of Music Mike Holober, the festival director. "Now in its 13th year, the CUNY Jazz Festival has evolved into the most important event on the CUNY jazz calendar, and City College has enjoyed being the host and sponsoring an event in the spirit of the joy of performing and thriving in an educational environment."
The festival is presented by The Simon H. Rifkind Center for the Humanities and the Arts at City College and the City College music department in cooperation with Jazz at Lincoln Center. Admission to all events is free.
About Tim Hagans
2011 Grammy-nominated composer and trumpeter Tim Hagans is one of the most unique and influential modern voices in jazz. Tim Hagans performs and records with the Tim Hagans Quartet. His latest CD, "The Moon is Waiting," just released on Palmetto Records, features his quartet performing all original compositions by Hagans. "JazzTimes" called it "scrumptious madness," and "Downbeat" hailed it as "an artistic success." "The Philadelphia Inquirer" described it as "free jazz with constant drive and passion."
He was nominated for Grammy awards for Best Instrumental Composition for "Box of Cannoli" from "The Avatar Sessions" (2010 Fuzzy Music); Best Contemporary Jazz CD for "Re: Animation" (2000 Blue Note) and "Animation*Imagination" (1999 Blue Note). In 2012, he received an honorary doctorate of music from the Sibelius Academy in Helsinki. Tim Hagans has performed and recorded with Thad Jones, Ernie Wilkins and Dexter Gordon.
For 15 years he was artistic director and composer-in-residence for the Norrbotten Big Band, traveling to Sweden to perform, conduct and arrange projects with guest artists such as Rufus Reid, Randy Brecker, Peter Erskine, Dave Liebman and Joe Lovano. "The Avatar Sessions" CD features music he created during that tenure. Tim Hagans is the featured soloist on Howard Shore's soundtrack for the movie "The Score," starring Robert DeNiro and Marlon Brando.