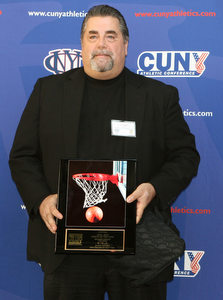 City College of New York women's basketball head coach, Jamie Angeli, headlined the CUNYAC Basketball Awards when he earned CUNYAC Women's Coach of the Year. Tiara Brown was named to the women's First Team, while Khalil Hamer was named to the men's Second Team. Marissa Olsen received the Sportsmanship award. 
In his second year as the head coach, Angeli, has completely turned around the women's basketball program. Last season, the team was 5-21 and 3-13 in conference play. This season he has set up a team that finished the regular season 16-9, which is the most wins since the 2002-03 season. Angeli is the third CCNY head coach to receive this award, and the first since 1992-93. 
Brown was named to the first-team all-conference after her standout season for the women. She is the first women's all-star since the 2009-10 season and the 36th overall all-star. Brown is ranked fifth in NCAA with one triple-double, sixth in rebounds with 323 and eighth with 17 double-doubles. She averaged a double-double this season with 16.5 points per game and 12.9 rebounds per game. 
On the men's side Hamer was named a second-team all-star. Hamer is the 23rd CCNY All-Star with the last one coming last season. He is fifth in the nation in assists with 149 and seventh with 6.2 assists per game. He also leads the conference in both of those statistics. In addition to his assists, he averaged 16.7 points per game and 7.2 rebounds per game.
Marissa Olsen was named Sportsmanship Winner and is the first CCNY recipient of the award. Carol Yu was named to the Sportsmanship Team last season for the Beavers. City now has five Sportsmanship Winners during the 2015-16 seasons. 
About The City College of New York
Since 1847, The City College of New York has provided low-cost, high-quality education for New Yorkers in a wide variety of disciplines. More than 15,000 students pursue undergraduate and graduate degrees in the College of Liberal Arts and Science; Bernard and Anne Spitzer School of Architecture; School of Education; Grove School of Engineering; Sophie Davis Biomedical Education/CUNY School of Medicine; and the Colin Powell School for Civic and Global Leadership. U.S. News, Princeton Review and Forbes all rank City College among the best colleges and universities in the United States.