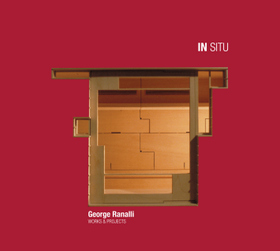 In his private practice, George Ranalli, dean of City College's Bernard and Anne Spitzer School of Architecture, has designed for a rock star as well as some of New York City's poorest residents. His body of work, which spans more than 30 years, is the subject of "In Situ," a 450-page book published by Oscar Riera Ojeda Publishers to be released December 16. 
The book sums up the theoretical position embodied in Dean Ranalli's work, which includes large-scale urban design, houses in the landscape, additions, renovations of landmark buildings and new construction. Because he practices extensively in dense, urban environments such as New York City, his projects often involve inserting new buildings, spaces and interiors into a cityscape that is richly textured.
"Working on projects forced me to confront the question of how to modify cities and landscapes of whose strong presence I was keenly aware and appreciative," he writes in an essay in the book. "Each project felt like a laboratory for investigating some aspect of urbanism, building design or interiors that I found in need of re-visioning."
As his thinking evolved, he focused on striking "a balance between project and setting rather than making something so novel that its difference was the primary agenda. I have sought a middle way, a place where both sides of the question – difference or belonging? – can be asked and answered."
His work on historic settings, National Register Historic Landmark buildings and settings with rich design and craft traditions has earned Dean Ranalli international recognition. Among the projects featured in the book are a house designed for Kiss guitarist Ace Frehley, the award-winning Saratoga Avenue Community Center for the New York City Housing Authority in Brooklyn's Bushwick neighborhood, and Newport, R.I.'s, Callender School, which was converted into a six-unit residence.
In addition, the book contains an essay by Michael Sorkin, director of the Spitzer School urban design program; an interview with "Metropolis" magazine editor Suzanne Szenasy, and essays about projects featured in the book by architecture critics Joseph Giovannini, Herbert Muschamp, Anthony Vidler, Paul Goldberger and Ada Louise Huxtable.
About The City College of New York
Since 1847, The City College of New York has provided low-cost, high-quality education for New Yorkers in a wide variety of disciplines. More than 16,000 students pursue undergraduate and graduate degrees in: the College of Liberal Arts and Sciences; the Bernard and Anne Spitzer School of Architecture; the School of Education; the Grove School of Engineering; the Sophie Davis School of Biomedical Education, and the Colin Powell School for Civic and Global Leadership. U.S. News, Princeton Review and Forbes all rank City College among the best colleges and universities in the United States.